ExOne Partners with Solukon on New Depowdering Station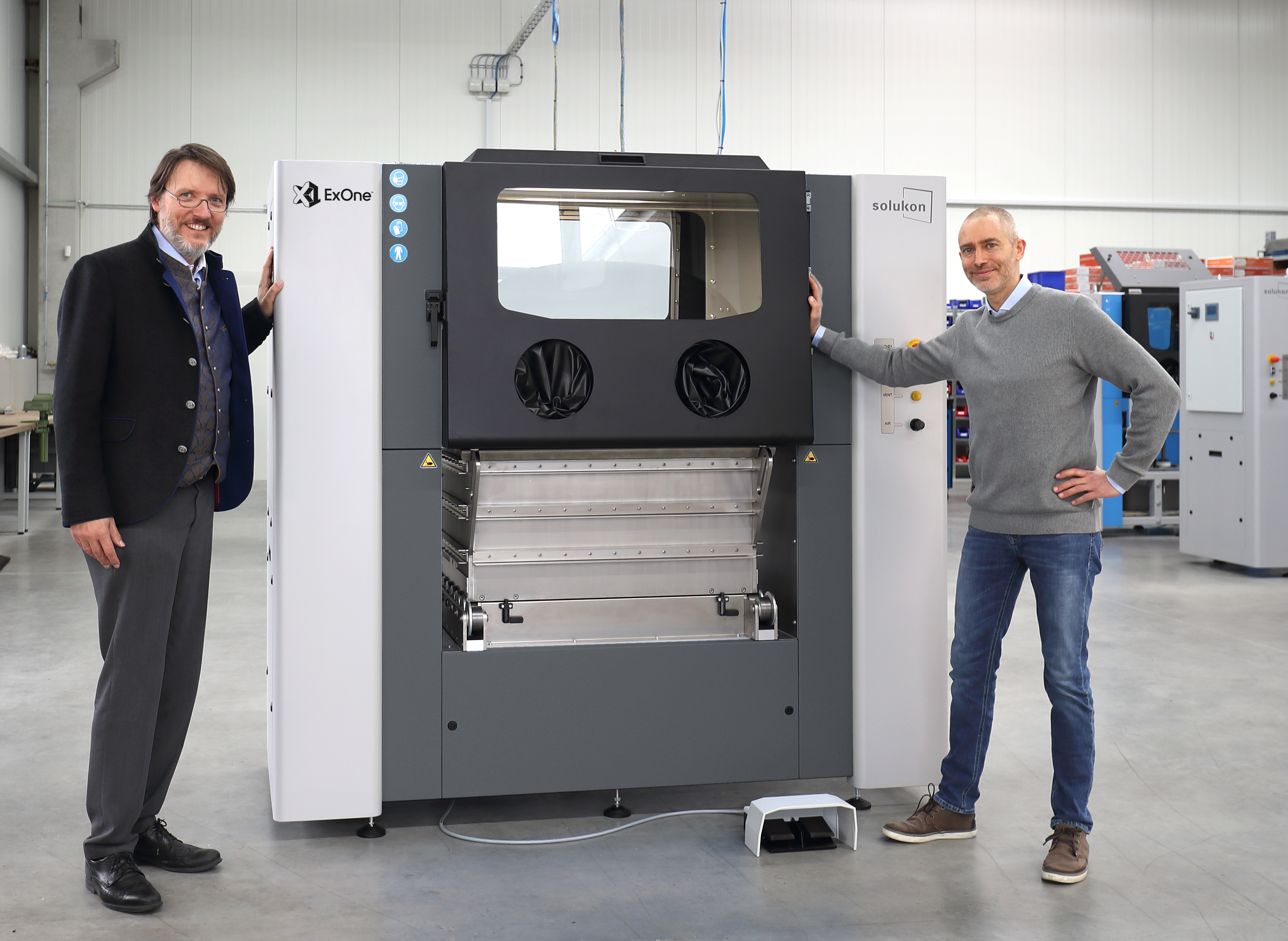 The new X1DPS 160 is a depowdering station that was developed for use with the X1 160Pro and is being manufactured by Solukon Maschinenbau GmbH
ExOne routinely partners with ancillary equipment and process providers who we believe are best-of-the-best leaders in their respective fields for powder management, sintering and more. This allows our world-leading binder jet team to stay focused on advancing our core binder jetting technology.
With the launch of the new X1 160Pro™ production metal binder jet 3D printer, which began shipping to customers in the first quarter, new solutions for powder handling had to be developed for much larger volumes of powder use and reuse within the manufacturing environment. The new X1DPS 160 is a depowdering station that was developed for use with the X1 160Pro and is being manufactured by Solukon Maschinenbau GmbH in Augsburg, Germany, in close proximity to ExOne's facility in Gersthofen, Germany, where the X1 160Pro is manufactured.
Solukon is a leading supplier of powder removal and processing systems for metal and polymer additive manufacturing systems, and the company joins ExOne's other trusted supplier partners.
The X1DPS 160 was designed to work efficiently with build boxes directly from the X1 160Pro industrial 3D printing system. After printing, the build box is transferred into the depowdering station, which features a sealed chamber made of stainless steel and is equipped with a HEPA filtration system as well as safety-monitoring equipment.
Glove ports on both sides of the ergonomically designed system allow two individuals to depowder, or unpack, the build box at one time. For smooth lifting, the system uses a semi-automatic, servo-driven Z-Axis. The chamber is also equipped with an integrated HEPA dust-extraction unit, as well as a vacuum and air gun for cleaning off parts. All powder retrieved by the depowdering station is directly connected to a powder recycling system.
"Comfortable, safe and efficient unpacking of 3D printed parts is the prerequisite for productive work flow," said Andreas Nagy, Vice President of Printing Systems at ExOne & Managing Director ExOne GmbH. "In order to address this issue, we are happy to have Solukon as a leading expert in the design of peripheral additive manufacturing equipment."
Andreas Hartmann, Co-founder and Technical Director of Solukon, added, "We are delighted about our new collaboration. ExOne's complete metal system is exemplary thought out and groundbreaking. It is great to become a part of this production AM technology."
Picture Source: Copyright Solukon / Jo Teichmann Fotografie