What is Binder Jetting?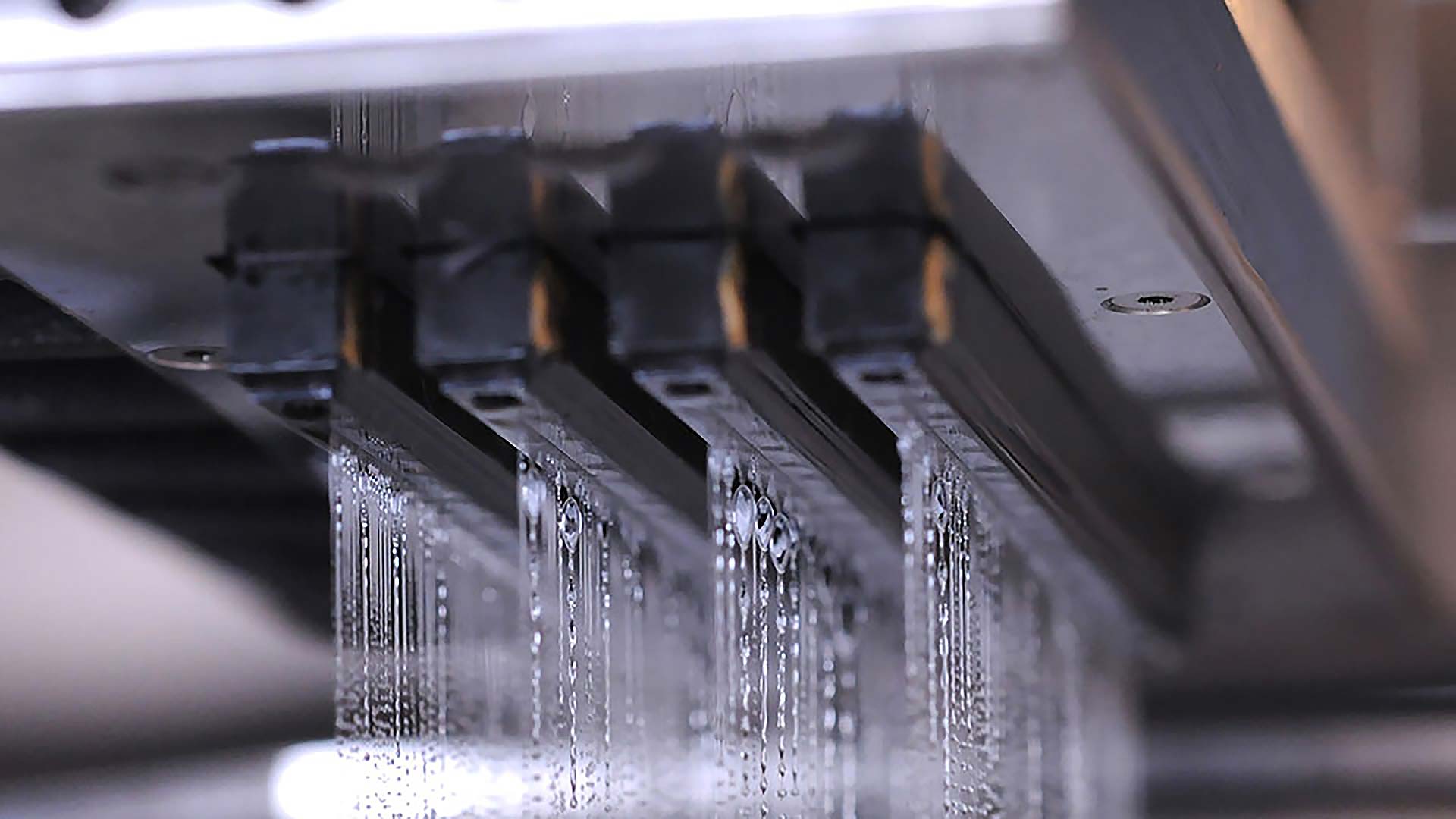 The fastest form of 3D printing for metal, ceramics and more
Transforming Industrial Powders into Parts and Tooling
Binder Jetting is an additive manufacturing process in which an industrial printhead selectively deposits a liquid binding agent onto a thin layer of powder particles — either metal, sand, ceramics or composites — to build high-value and one-of-a-kind parts and tooling. The process is repeated layer by layer, using a map from a digital design file, until the object is complete.
Initially developed at the Massachusetts Institute of Technology in the early 1990s, ExOne obtained the exclusive license to this inkjet-in-powder-bed method of 3D printing in 1996. Two years later, ExOne launched the market's first commercial binder jet 3D printer for metals, the RTS-300. In 2002, ExOne launched its first sand 3D printer, the S15, for printing sand molds and cores for metalcasting industrial parts.

Currently, ExOne binder jet systems 3D print more than 20 types of sand, metal, ceramics and composites. Depending on the application, some materials, like sand, require little to no additional post-processing. Other materials, such as metals, are cured and sintered after printing to achieve densities greater than 97%, in line with metal injection molding (MIM) and better than investment castings. Sometimes, parts are also infiltrated with another material to create a desired matrix or composite material.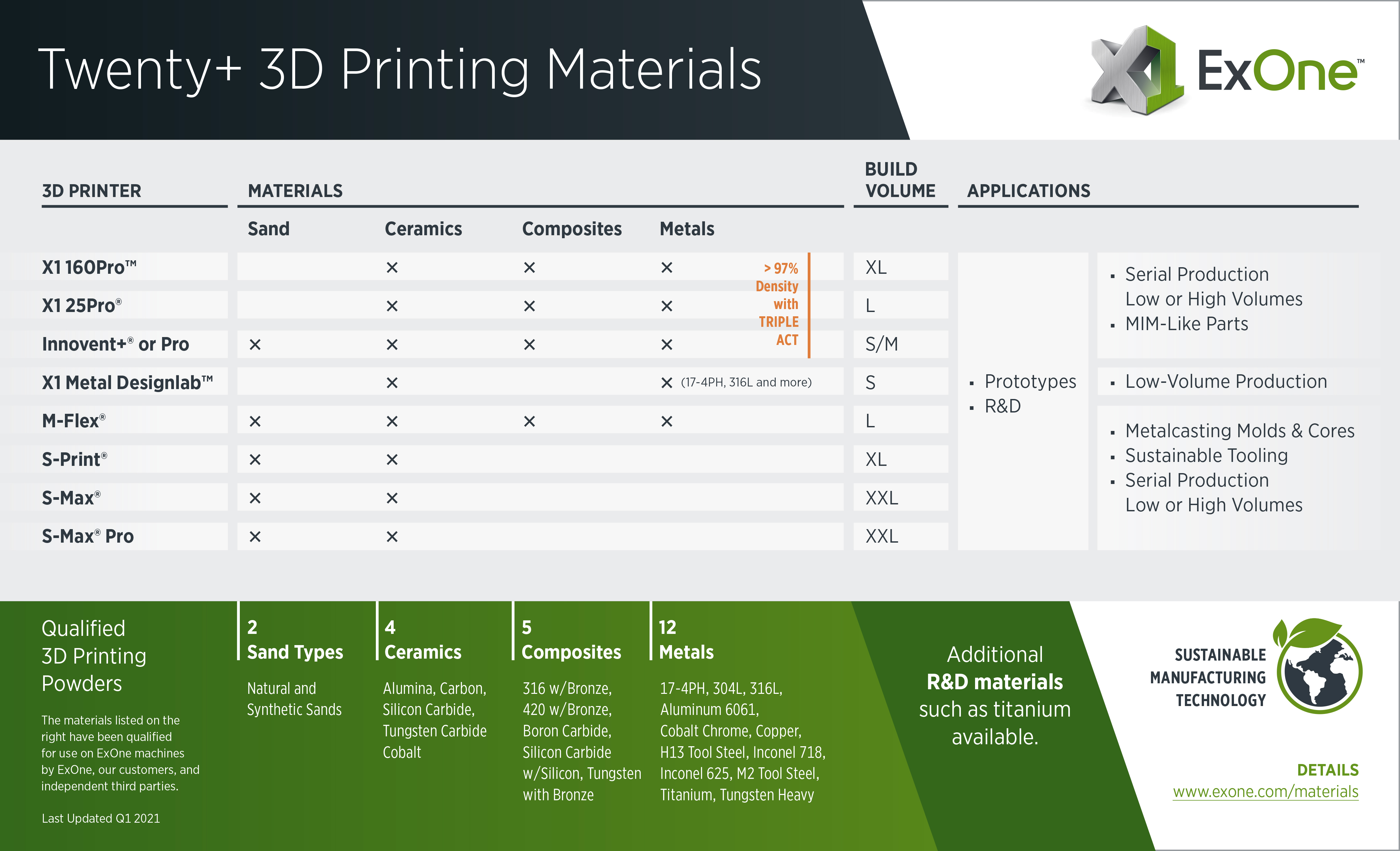 Click to enlargeWith metal 3D printing, ExOne delivers its industry-leading part density through its patented Triple ACT advanced compaction technology, which also ensures a high level of consistency and repeatability across the entire build area.
In fact, our part density variability across the build area is now 0.3%, and we can achieve post-sintering dimensional tolerances of 1-2.5% on a first print run. Because binder jetting is currently an iterative process for optimization, we routinely achieve dimensional tolerances of less than 1% with two to three builds. However, we are working with software companies, such as Altair and Ansys, to develop software models that reduce the number of iterations required to achieve the highest results and extract the full value binder jetting can deliver.
For example, ExOne and Altair worked with a global automotive manufacturer to lightweight an existing structural truck part that holds cruise control sensors. The new part, shown on the cover of the metal binder jetting guide below, was more than 45% lighter than the original, required fewer manufacturing processes to make and reduced the amount of welding required to affix the part to the vehicle.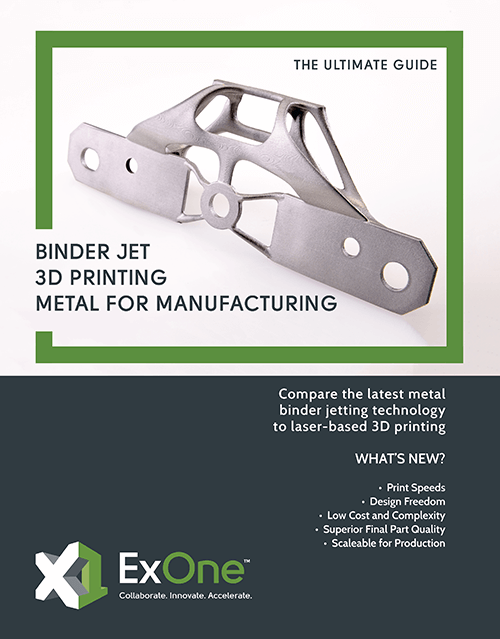 DOWNLOAD NOW

How does binder jetting differ from other additive techniques?

There are a wide range of 3D printing methods today, and there is often confusion about the pros and cons of various offerings. Binder jetting is renowned among additive manufacturing methods specifically for its high volumetric output.
Among additive manufacturing technologies, it's also the most similar to traditional paper printing in its simple approach and speed. The binder functions like the ink as it moves across the layers of powder, which like paper, forms the final product.
By contrast, many other forms of 3D printing build parts with a single point — often a laser or nozzle — that extrudes, melts or welds material together. For many of these metal printing processes, a build plate and supports may be required for part stability throughout the build process. Such processes require significantly more material and time to draw out each part with a single point, layer by layer. To combat the slow speed of drawing out a part with a single point with head, additional lasers may be added, which intensifies the cost of such systems. What's more, the heating and cooling that takes place during these longer builds for metal creates residual stresses in the part which must be relieved in a secondary post-processing operation.
Binder jetting is unique in that it does not employ heat during the build process for metal parts and it prints quickly entire layers of many parts using a wide gantry of printheads. The parts are supported by the loose powder in the job box, eliminating the need for a build plate or supports in most instances. Thus, binder Jetting has the ability to print a large number of parts or large parts in a quick and cost effective manner. Finally, parts printed in metal powder are sintered together at one time after the shape has been formed, resulting in a high-quality microstructure with superior grain isotropy.
Because of its high-speeds and material flexibility, binder jetting stands alone among 3D printing methods as a technology that could transform traditional high-volume manufacturing and bring the design, cost and sustainability advantages of 3D printing to the masses.
To see how customers are using binder jet 3D printers from ExOne to transform their business, see our Case Studies.