BIG METAL PRODUCTION
Our largest and most advanced metal binder jetting system for sustainable, high-quality production.


The X1 160Pro™: Advanced Metal Binder Jetting For Sustainable, High-Quality Production
Binder jet 3D printing for production is finally here with the X1 160Pro, the 10th and largest metal 3D printer from ExOne.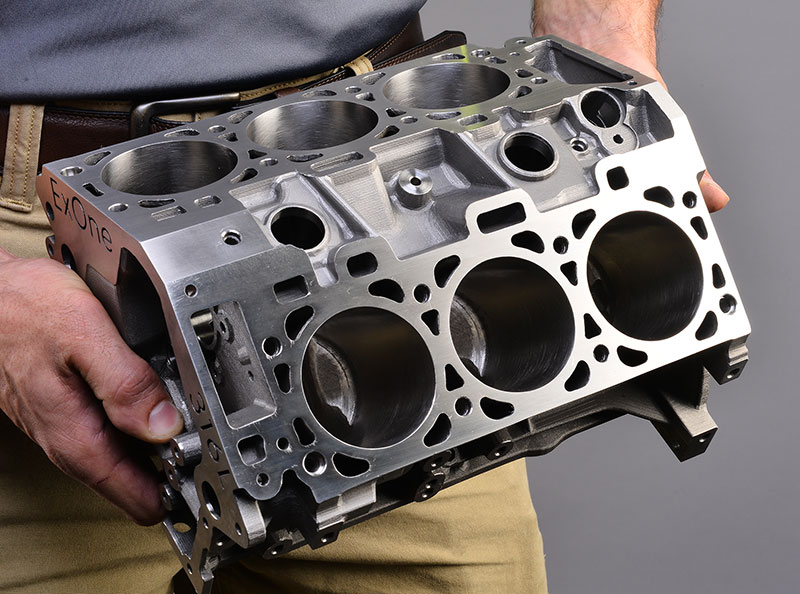 With a build box of 800 x 500 x 400 mm (31.5 x 19.7 x 15.8 in), the new system offers 160 liters of build volume — more than 2.5 times the build volume of competing systems for sale today.
What's more, the open material system will be capable of printing more than 20 metals, ceramics and composites, and incorporates two decades of knowledge to deliver reliable production of parts with new design freedoms.
The X1 160Pro features ExOne's exclusive and newly patented Triple ACT system, which delivers industry-leading part density and repeatability. Our Triple Advanced Compaction Technology system tackles one of the biggest challenges in binder jetting: dispensing, spreading and compacting ultra-fine metal powders. Learn more at www.exone.com/tripleact.
Also inside: New Industry 4.0 cloud connectivity and process-linking capabilities enabled by Siemens MindSphere.
In addition, we recently launched ExOne Scout, a secure Industry 4.0 app that provides real-time machine monitoring and analysis of production 3D printers on a wide range of digital devices, including smart phones and watches. Learn more about ExOne Scout.
KEY FEATURES AND BENEFITS
Designed for throughput: The largest metal binder jetting system available, the X1 160Pro offers more than 2.5 times the build volume of competing systems available today
Unparalleled material flexibility: 3D prints more than 20 metals, ceramics, and composites
Best balance of speed and quality: Print speeds topping 10,000 cm3/hour, depending on material. Speed is individually optimized for each metal offered
Patented quality feature: ExOne's Triple ACT delivers industry-leading density and repeatability with advanced handling of ultra-fine powders.
The 10th and largest metal 3D printer from ExOne: The trusted, global leaders in industrial binder jetting systems for sand, metal and ceramics
Complete the form to download the spec sheet.