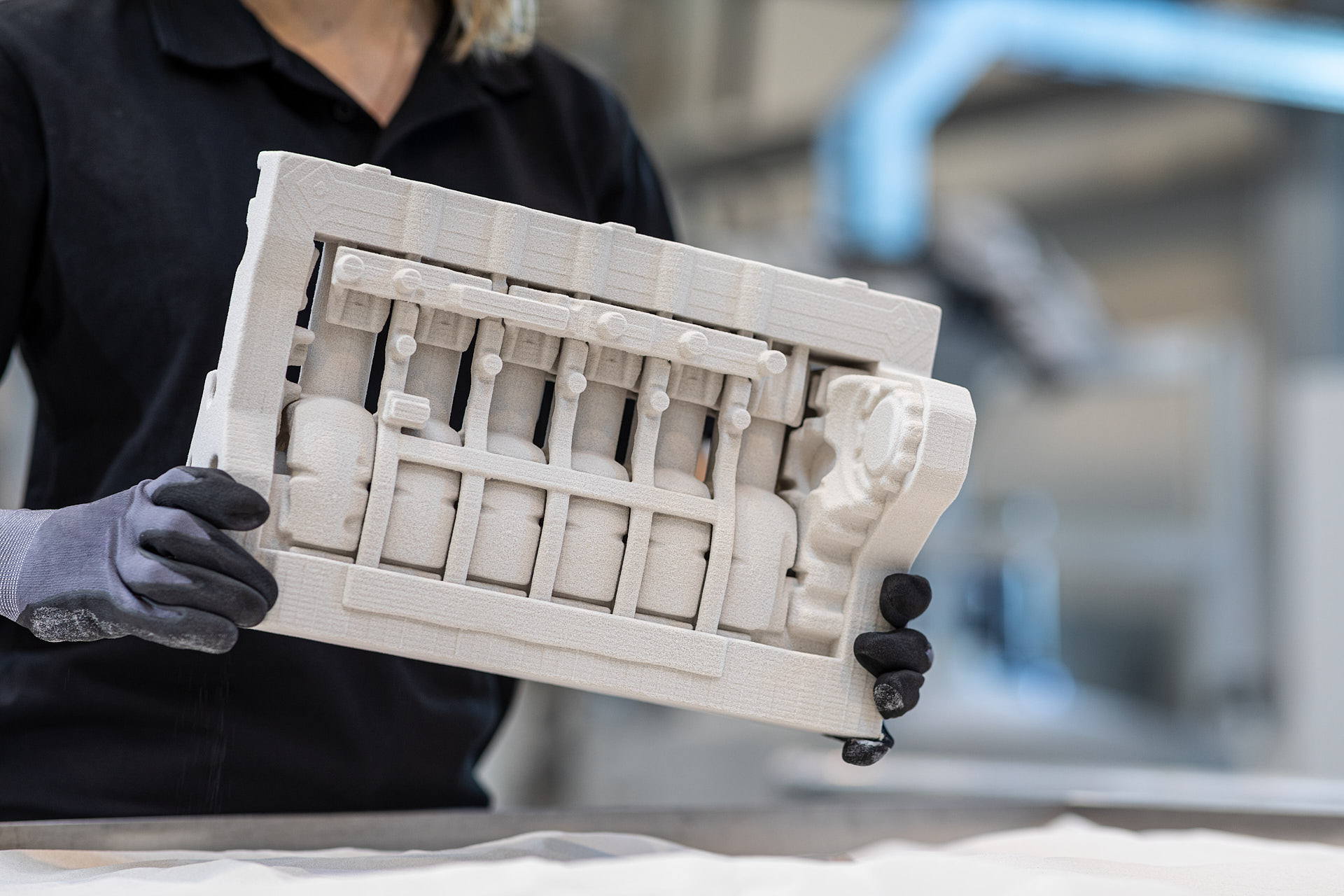 Foundry 3D Printing Support
Individualized support gets your new 3D printer set up quickly with minimal impact to existing processes for optimal productivity and our service team keeps it running if issues arise
3D Printing Specialists
Our global ExOne® Adoption Centers (EAC) pair you with binder jet and foundry specialists to print and test foundry and industrial tooling in detail and ensure parts meet the desired quality and properties. We review your manufacturing process, binder types, molding media, and more to provide the optimal 3D printing support based on the requirements of your finished product. Our team of experts is also standing by to answer questions about a parts-on-demand order or 3D printer maintenance.
OneCast 3D Printing Engineering Support
We offer a 360° service for high-value, complex parts. Our team has a unique combination of binder jetting and metalcasting expertise to support OEMs and foundries innovate rigging designs and core geometries.
We utilize virtual casting with solidification modeling allowing customers to iterate designs quickly without trial castings and to optimize rigging and riser designs to enhance casting performance. Learn more about our OneCast services that support successful first pours.
3D Printer Installation
Our 20+ years' of experience lends credence to the quality of our professional assembly and installation to ensure your machine runs effectively and efficiently. When our service technicians come onsite to setup your 3D printer, they work diligently to fully integrate your new equipment and provide general training.
Service

Dependability
Whether preventative maintenance or troubleshooting, we know downtime means production losses. Our maintenance program supports consistent machine performance over time to uphold our high-quality standards and our service team is available around-the-clock to provide comprehensive support that keeps your machines running. Customers adopting Industry 4.0 can utilize our remote monitoring ExOne Scout app to provide real-time analysis to keep production lines running.
Service packages tailored to your needs provide 3D printing support throughout the service life of your equipment and our experts provide knowledge-transfer to optimize performance.
The Power of

Partnerships
When you work with ExOne you're working with our entire network of industry partnerships. We have a growing number of collaborations that enable us to develop binder jet technology faster. This critical research and development network helps our customers develop solutions to their toughest problems, from materials and software to new applications and accessories, we partner with companies like Siemens, Altair, Oak Ridge National Laboratory, and Sandvik to make sure our customers have the support of the entire industry behind their binder jet production.
Get Started Today
Get in touch with us for printer installation, maintenance, and support questions.
Contact us