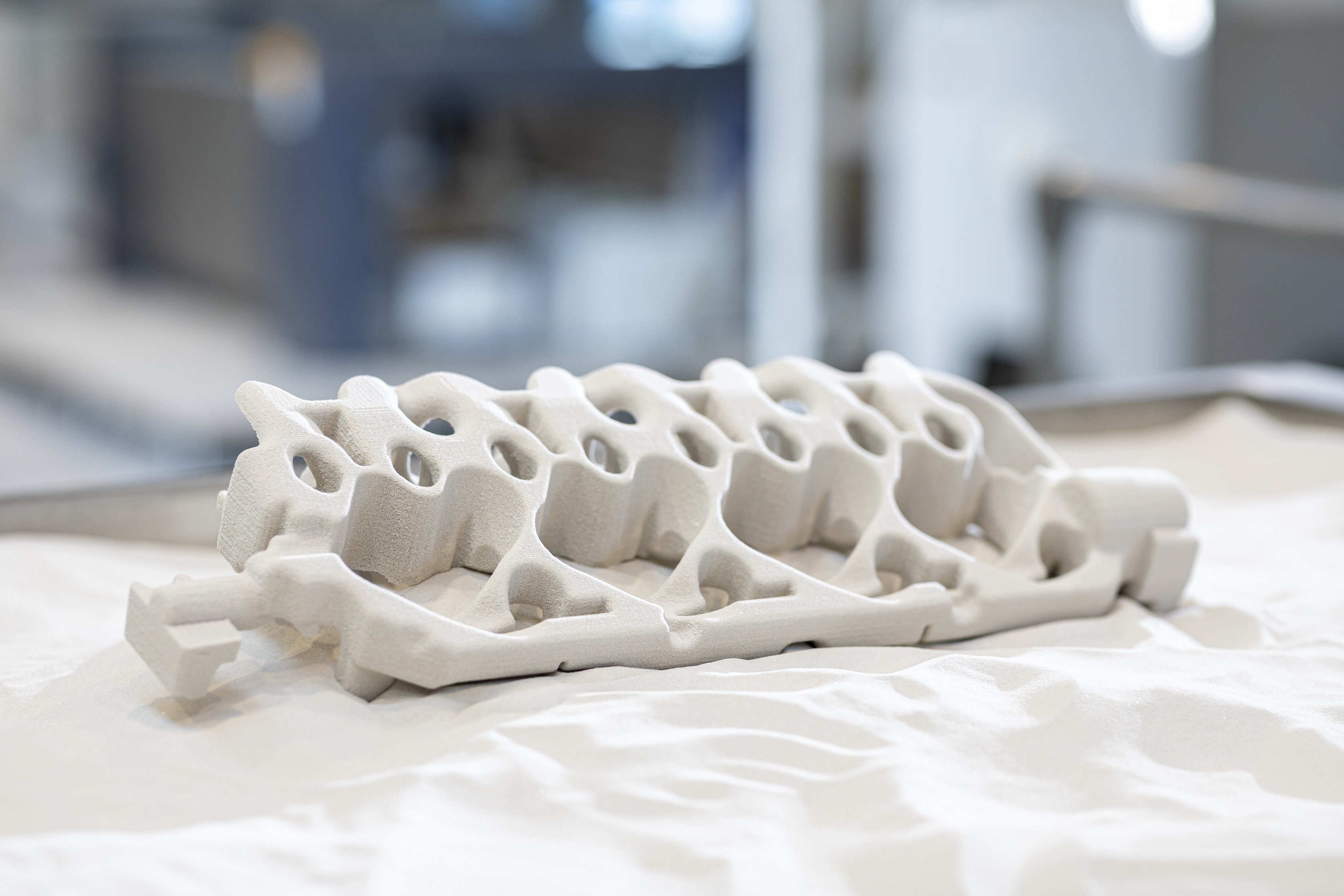 3D Printing with Inorganic Binder
Emission-free castings increase sustainability, yield, and process efficiencies


A decisive step towards a green foundry
Sustainable manufacturing is increasingly the focus of governments, regulations, and within the casting industry itself. Inorganic binder jet sand 3D printing opens new opportunities to produce sand cores in a resource-friendly way. Additive manufacturing enables new complex, reduced-assembly mold and core geometries, fast iterations without the need for physical patterns, and the ability to deliver parts in days by printing layer by layer directly from CAD files.
Foundries and other companies, such as those in the automotive industry, can now pursue a more ecologically conscious approach of emission-free casting while tapping all these benefits. The sodium silicate-based binder has been optimized for the S-Max® Pro and can be combined with a microwave and the automated desanding station to create a manufacturing cell for the series production of inorganic cores.
KEY BENEFITS
Emission-free casting with no organic content to burn off during pouring
Higher yields by eliminating gas-related defects during casting
Environmentally friendly binder processing and storage reduces investment and operating costs
Flexibility to produce complex core geometries with excellent surface quality and edge sharpness
Reduced sand adhesion to final parts enables automated desanding and additional automation options to increase manufacturing efficiencies
Learn More About Inorganic Binder

Inorganic binder paves the way for top-quality, emission-free castings and automated sand core production. The S-Max® Pro 3d printer combined with a microwave and the automated desanding station enable the flexible, automated series production of inorganic cores with additional integration opportunities.
Webinar Availabile
Andy Nagy, VP Printing Systems at ExOne and Amine Serghini from HÜTTENES-ALBERTUS Chemische Werke GmbH hosted a webinar on the benefits of binder jetting with inorganic binder and the automation possibilities it opens up. 
Watch now on demand
Physical and Chemical Properties


Binder (FB901)
Cleaner (FB903)
Additive (AD901)
Additive (AD903)
pH value
12 (highly alkaline)
9.2 (alkaline)
-
-
Density
1.3
g/cm3
0.993 g/cm3
0.35 g/cm3
1.02 g/cm3
Part Characteristics
| | |
| --- | --- |
| Loss on ignition (LOI) | < 0.5% |
| Typical strength | 250 - 400 N/cm² * |
| Dimensional accuracy | +/- 0.5 mm ** |
* dependent on molding material and amount of binder
** dependent on component size and geometry (up to 0.1% of component size)
The binder (FB901) used in the inorganic process is based on sodium silicate chemistry, commonly known as water glass. The cured printed product is hygroscopic, so should be used quickly for best results or kept in a dry storage environment. Cast properties can be adjusted by dosing various additive quantities and the strength of the printed cores is regulated by the amount of binder. For use with silica sands.