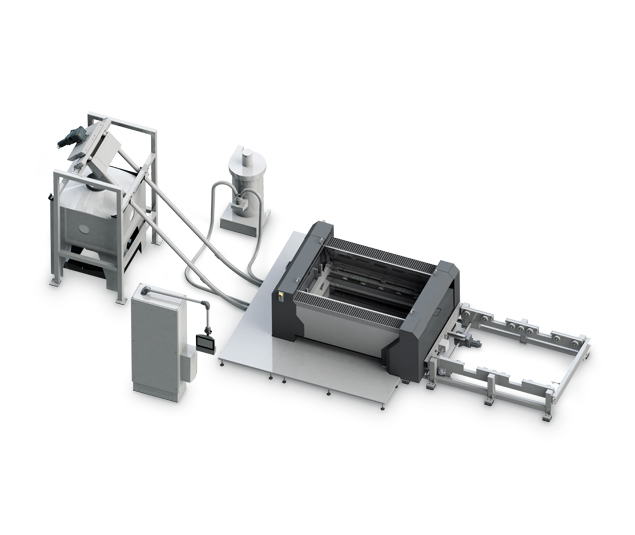 Automated Desanding Station
The pioneering automation technology in the ExOne desanding station can reduce job box material removal time by up to 95%. A state-of-the-art PLC system and integrated sensors save labor costs and increase the speed of desanding cores printed using inorganic binders.


The desanding station is compatible with the box-in-box system and has an ergonomic design to ensure operator safety. In conjunction with the S-Max® Pro binder jetting machine and a microwave, it forms a production line for the automated manufacturing of inorganic cores. Up to four S-Max Pro machines can be connected to one desanding station and the modular setup allows the system to be extended as required, for example with robotic removal of cores and finishing, creating greater flexibility and a future-proof investment.
Added Value
1.Fully automated desanding of 3D printed cores

2. Increased Overall Equipment Efficiency (OEE)
Fully automated job box transport and desanding, as well as instant recovery of sand for material recycling
Reduces the coarse desanding process by up to 95% from approximately 90 down to 3 minutes
Lower risk of core breakage or damage compared to manual extraction, increasing yields and improving core quality
3. Improved ergonomics and work safety
Operator–friendly, ergonomic design for part removal
Integrated dust collector with filter to reduce fine particle dust
4. Future connection to integrate robotics enabling fully automated unpacking and fine desanding

Application
Inorganic binder (FB901) in combination with the box-in-box system for processing silica sand as a standard molding material.

Technnical data
Dimensions: L 8,700 × W 3,300 × H 2,700 mm

Total weight: ~ 3.000 kg

Supply voltage: 400 V, 50/60 Hz, 3~/N/PE

Pressurized air: 6 – 10 bar (dry and free of residual oil)