ExOne Announces Schunk Has Purchased an X1 25Pro® for the Production of Binder Jet 3D Printed Metal Parts as a Service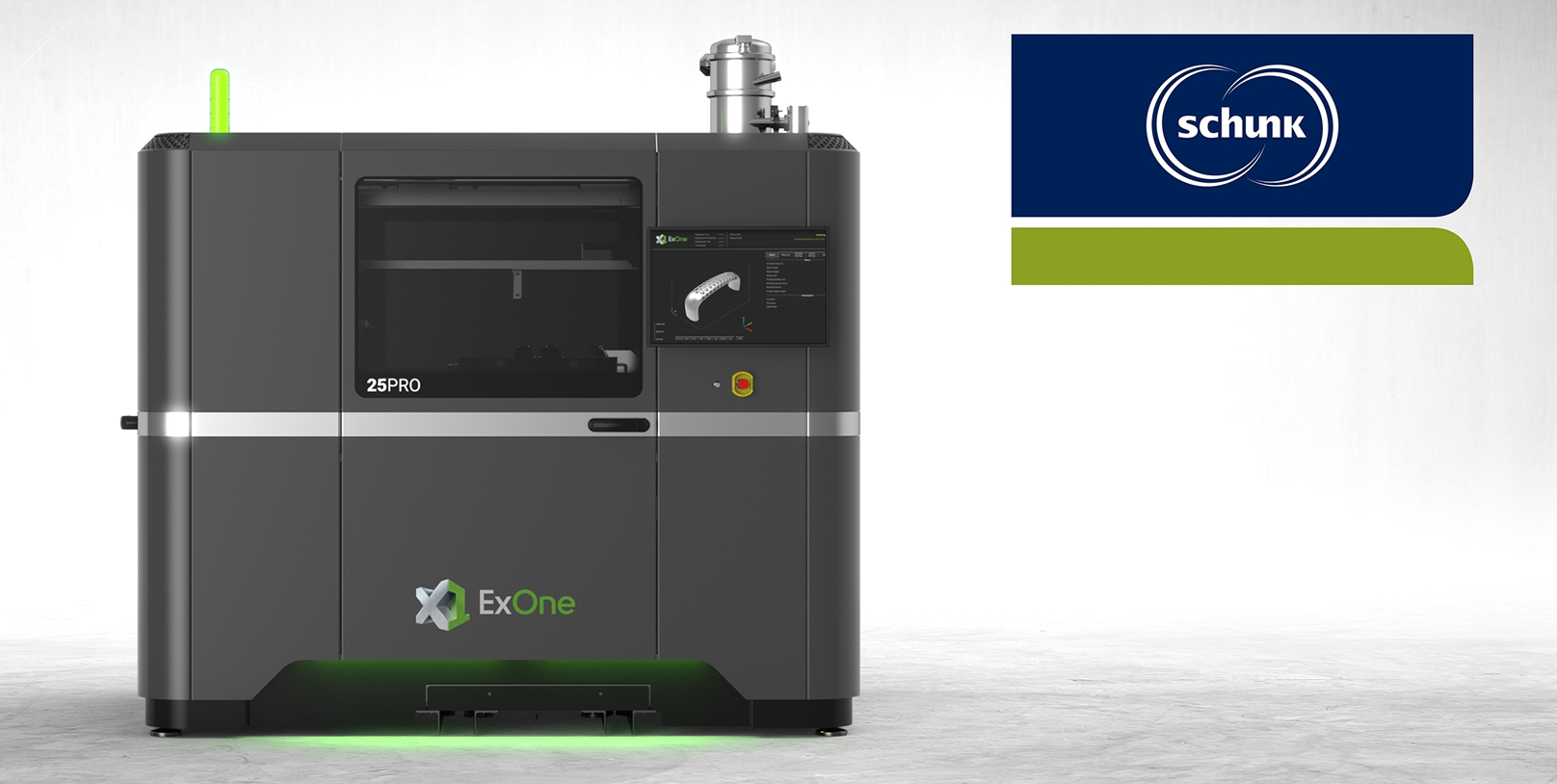 The X1 25Pro metal printing system will be used to provide serial production of sintered metal parts to automotive, aerospace, medical, and other customers throughout Europe
The new X1 25Pro metal printing system will be installed and used in the Schunk Sinter Metals location in Thale, Germany, to provide serial production of sintered metal parts to automotive, aerospace, medical, and other customers throughout Europe – starting with 316L stainless steel and later expanding to other materials.
"We believe 3D printing is the technology of the future, and we will use our binder jetting system to develop technologies and parts that go beyond what we can provide with traditional sintered metal components," said Tobias Franz Heusel, Global Account Manager at Schunk.
Schunk plans to integrate its ExOne metal binder jetting technology into its industrial ecosystem that already includes other methods of 3D printing producing parts with different materials such as copper, stainless steel and low alloyed steel, as well as conventional manufacturing processes such as axial pressing and metal injection molding. "We believe binder jetting offers four primary advantages. In addition to speed and freedom of design, the ability to produce large volumes with 3D printing and a large selection of materials is fairly unique among 3D printing processes," Heusel added.
Schunk selected ExOne as its binder jet partner, largely because of the company's extensive history as the commercial pioneer and market leader in metal binder jetting. Over its history, ExOne has launched more than 10 commercial metal binder jetting systems.
"We are proud to partner with Schunk to provide ExOne binder jet 3D printing services in the European market," said Eric Bader, Managing Director, ExOne, EMEA. "Schunk's services will complement our own ExOne Adoption Center (EAC) in Gersthofen, where we will provide benchmarks to customers interested in purchasing machines."
Details about Schunk's move into binder jet 3D printing can be found at https://bit.ly/SchunkX1en
What is Binder Jet 3D Printing?
ExOne's binder jet 3D printing transforms powdered materials – metal, sand or ceramic – into highly dense and functional precision parts at high speeds.
An industrial printhead selectively deposits a binder into a bed of powder particles creating a solid part one thin layer at a time. When printing metals, the final bound metal part must be sintered in a furnace to fuse the particles together into a solid object. ExOne now delivers high densities of greater than 97% for most metals, in line with Metal Injection Molding or gravity castings.
Binder jet 3D printing technology is viewed as a desirable and sustainable production method, largely because of its high speed, low waste and cost, as well as material flexibility.
About ExOne
ExOne (Nasdaq: XONE) is the pioneer and global leader in binder jet 3D printing technology. Since 1995, we've been on a mission to deliver powerful 3D printers that solve the toughest problems and enable world-changing innovations. Our 3D printing systems quickly transform powder materials — including metals, ceramics, composites and sand — into precision parts, metalcasting molds and cores, and innovative tooling solutions. Industrial customers use our technology to save time and money, reduce waste, improve their manufacturing flexibility, and deliver designs and products that were once impossible. As home to the world's leading team of binder jetting experts, ExOne also provides specialized 3D printing services, including on-demand production of mission-critical parts, as well as engineering and design consulting. Learn more about ExOne at www.exone.com or on Twitter at @ExOneCo. We invite you to join with us to #MakeMetalGreen™.
Schunk Group
The Schunk Group is a global technology company. The company is a leading supplier of products made of high-tech materials – such as carbon, technical ceramics and sintered metal – as well as machines and systems – from environmental simulation and air conditioning to ultrasonic welding and optical machines. The Schunk Group has around 9,000 employees in 29 countries and achieved sales of €1.2 billion in 2020. Learn more at www.schunk-group.com or on LinkedIn @Schunk Group.
With over 90 years of experience in powder metallurgy, the business unit Schunk Sinter Metals is the technology and development partner for the automotive and aerospace industries when it comes to the production of sintered metal parts by axial pressing, metal powder injection molding and additive manufacturing processes. Learn more at www.schunk-mobility.com.
View source version on businesswire.com: https://www.businesswire.com/news/home/20211111005667/en/
Sarah Webster
Chief Marketing Officer
724.516.2336
sarah.webster@exone.com