Playing the long game: The story of Binder Jetting and ExOne's view on a rapidly evolving technology landscape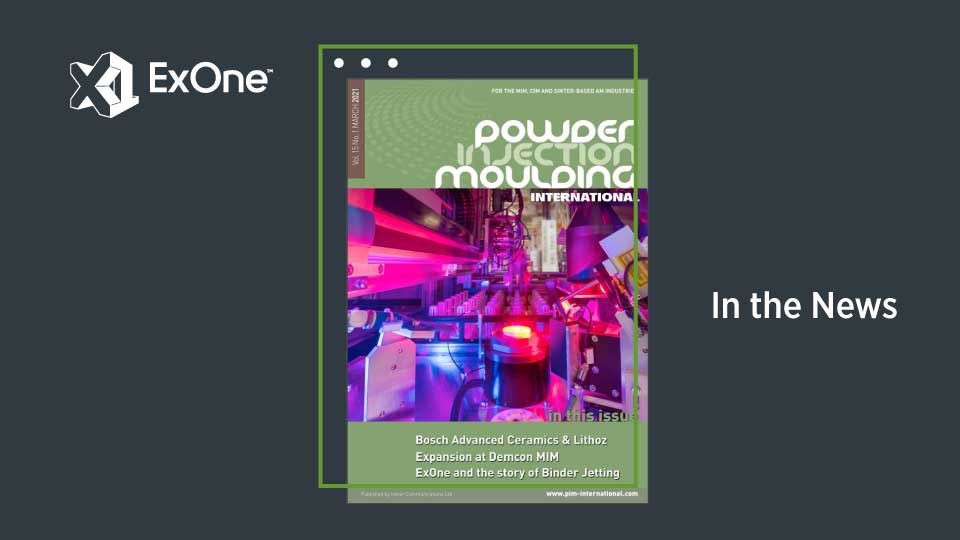 Being ahead of one's time can be both a blessing and a challenge. The story of The ExOne Company, the pioneer of metal Binder Jetting, well illustrates this.
This article first appeared in the March 2021 issue of Powder Injection Moulding.
The March issue of Powder Injection Moulding International tells the inside story of how ExOne's long journey in binder jetting metals eventually led to a robust new 3D printing market, with new competitors such as HP, GE, Desktop Metal and Digital Metal.
Long viewed as a niche technology, binder jetting is now enjoying a renewal in attention, a shift driven partly by the technology's new level of maturity, but also by a new push by major manufacturers to develop lightweight metal parts for electric cars and other products that aim to consume less energy.
ExOne details the long R&D journey it took to print standard MIM powder into high-density precision parts, and how the whole effort almost collapsed several times over the years, before the company focused its effort on a materials roadmap that now sets ExOne apart.