The Evolution of the Revolution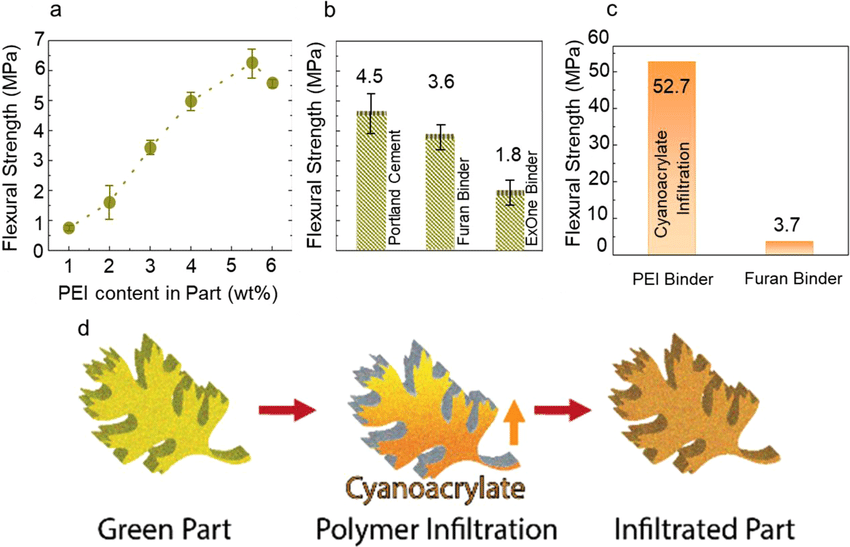 After disrupting the way foundry molds and cores are made, sand 3D printing is evolving. A research team at Oak Ridge National Laboratory developed a new binder that aids strong washout tooling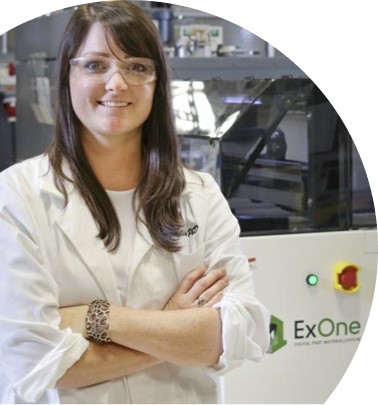 Amy Elliott, Ph.D. Group Leader, Robotics and Intelligent Systems at Oak Ridge National LaboratoryBinder jetting is a 3D printing process that has been used by the leading metalcasting foundries for decades to create sandcasting molds and cores. By adopting digital manufacturing, foundries can produce complex molds and cores without the cost of lead times of traditional tooling. For product developers, the design freedom of additive manufacturing allows them to generate shapes that optimize part weight and performance but are not manufacturable with traditional methods.
As sand 3D printing continues to revolutionize metalcasting, it is also evolving as increasing uses for the technology are explored outside the foundry. Because silica sand is an affordable and readily available material it is an ideal option for on-demand, local manufacturing strategies, increasingly in the industrial tooling sector.
Amy Elliott, Ph.D. Group Leader, Robotics and Intelligent Systems at the Department of Energy's Oak Ridge National Laboratory (ORNL) explains, "There is a need for strong, cheap tools." Yet those tooling applications often wrap carbon fiber or fiberglass around the forms before applying heat and pressure that could cause standard 3D printed sand parts to break or fail.
Elliott is part of a team of ORNL researchers who work with advanced manufacturing technologies like ExOne binder jetting machines to innovate and spur industrial adoption. The team designed a novel polymer binder to produce increased-strength silica sand parts. "The project actually originated with a focus on finding a strong binder with less carbon for some metal binder jetting applications," said Elliott, alluding to the team's extensive work with the technology across a range of materials.
The researchers recognized the impressive bond their polyethyleneimine (PEI) binder had with the oxide surface of sand. Compared to conventional binders, the PEI binder doubled the strength of the as-printed sand parts. When infiltrated with an additional super-glue-like material, the parts exhibited an additional eight-fold increase in strength.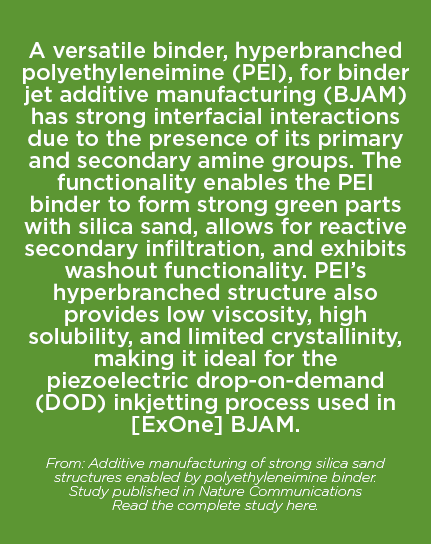 Mechanical properties tested to show strength performance better than concrete – and that's when things really took off, according to Elliott. As the headline of 3D printed sand being stronger than concrete grew legs, the team's examples like this mini-bridge supporting 300 times its own weight - analogous to 12 Empire State Buildings - and this video of a car running over a 3D printed sample made headlines.
Partnering with ExOne throughout the development, ORNL identified areas where further development of their findings could be beneficial to the market. "The combination of the polymers not only gives the sand a lot of strength," Elliott said, "but gives us more options to tailor the results to the application."
The binder, for example, can be made with washout properties for hallow-geometry designs. The printed tool is durable enough for winding or layup with increased strength benefits, yet the binder remains water soluble. This allows the sacrificial sand tool to be washed out of the form with tap water, leaving behind a hollow composite form.
The ease of creating durable and ever-more complex designs like these strong washout tooling applications will help spur adoption of binder jetting for new manufacturing processes, tooling applications, and beyond. Indeed, Engineered Particulate Infiltration Composite (EPIC) products using a similar technique are already used for architecture, restoration, and consumer product applications today.
Advancements like this PEI binder developed by the ORNL team continue to elevate the possibilities of the sand 3D printing revolution.
 Sacrificial Tooling that Washes Out with Water
Strong washout tooling solutions streamline the production of aircraft ducting, pressure tanks, struts, mandrels and other hollow objects by 3D printing sacrificial tool cores in sand that wash out with water.
Learn more about x1 Washout