3D Printing Cleared for Takeoff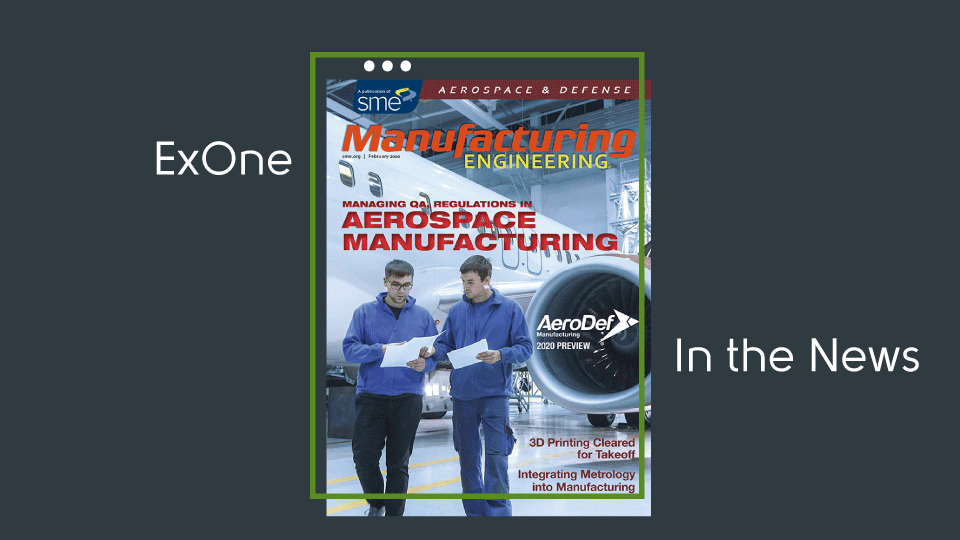 Aerospace looks to additive manufacturing to boost efficiency, reduce waste.
This article appears in the February 2020 AeroDef issue of SME's Manufacturing Engineering Magazine.
As the pioneer and global leader in binder jet 3D printing technology, ExOne plays a very active role in creating cutting-edge, sustainable parts for the aerospace industry.
The article provides insight from various 3D printing companies and industry experts about the benefits that 3D printing is having on the aerospace industry and why the industry is adopting additive manufacturing and its capabilities. Two of the most compelling benefits are being able to create lighter weight parts and more economical parts which produces less waste.
ExOne's sand 3D printers have been in the industrial market, including aerospace, since 2002. "Parts made with our 3D technology are routinely being used in aerospace products," said Rick Lucas, Chief Technology Officer of ExOne,
ExOne will be exhibiting at the 2020 AeroDef show in in Fort Worth, TX, March 17 - 18, booth #445.
Click here to read the full article from Manufacturing Engineering Magazine.