Metal 3D Printers - Materials & Binders
ExOne metal 3D printers transform more than 20 powders into metal, ceramic and composite parts and products.
Our metal printing technology creates dense and functional precision parts used for automotive, aerospace, defense, energy, and consumer applications.
To ensure customers will have reliable, repeatable and predictable parts, from 3D printing to final sintering, we have a comprehensive qualification process. ExOne's R&D teams work continuously to qualify new materials for use in our machines. What's more, we routinely partner with companies to develop specific materials for binder jet 3D printing with our technology.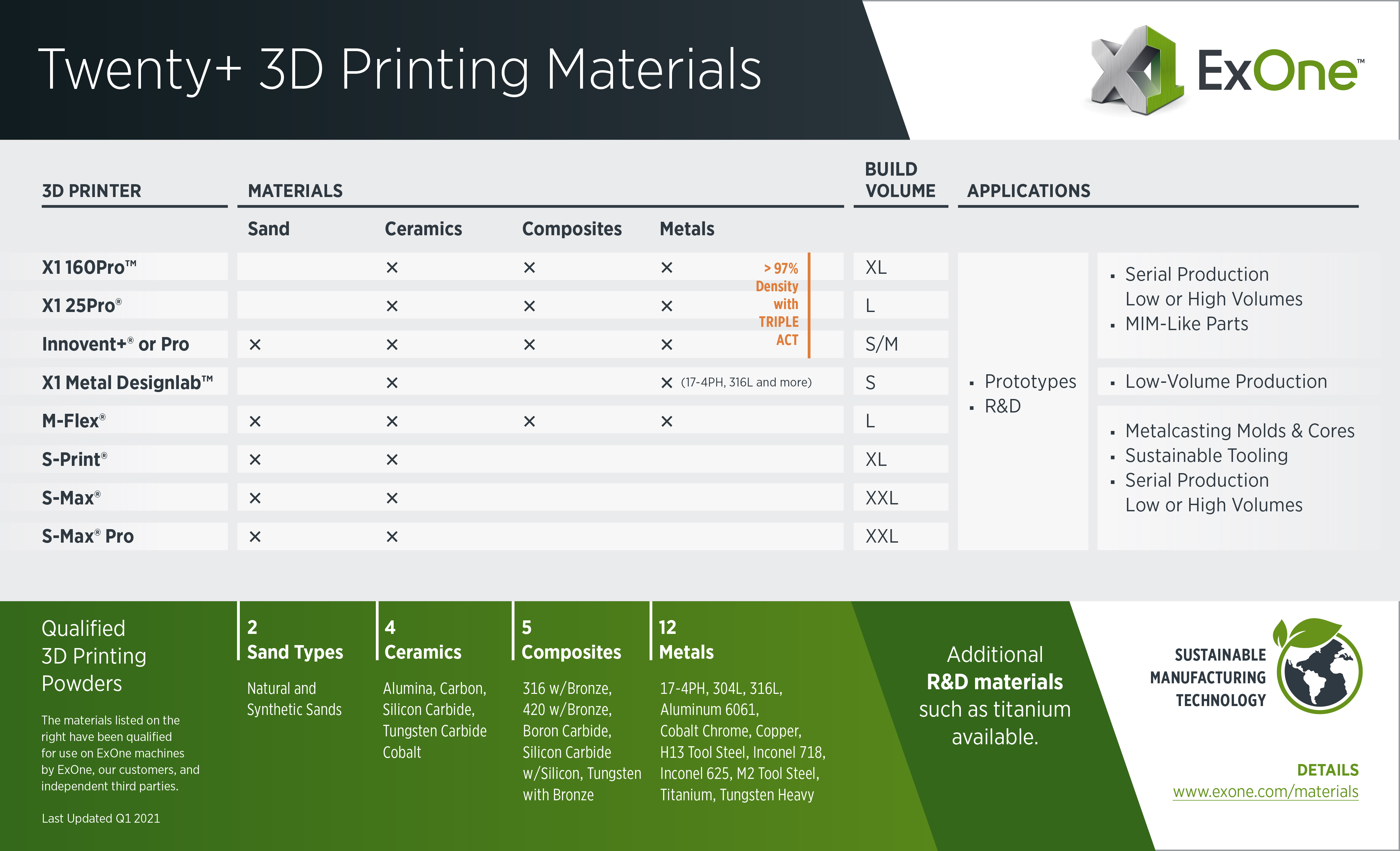 Click to view a full size image
ExOne has three qualification levels that recognize different degrees of readiness for customers with different application needs. To understand which machines print which specific materials listed below, please contact an ExOne representative, as there may be some restrictions based on particle size for certain machines.
Download the ExOne
Q1 2021 Materials Update
1. Third-Party Qualified Materials
These materials have passed ExOne's rigorous testing for uniformity, dimensional tolerance, sintering characteristics, and other features over multiple builds. Please see the attached data sheets for third-party testing results based on MPIF standards.
2. Customer-Qualified Materials
The materials below have been qualified for use by ExOne customers, using standards for their own applications, and are being successfully printed today. Additionally, a number of ExOne customers also print proprietary powdered materials on our machines that are not listed below. If you have a question about 3D printing the materials below, please contact us.

Single Alloy Metals
Cobalt Chrome
Copper
H13 Tool Steel
Inconel 625
Titanium
Tungsten Heavy Alloy
Ceramics
Alumina
Carbon
Natural Sands
Synthetic Sands
Silicon Carbide
Tungsten Carbide Cobalt
Ceramic-Metal Composites
Boron Carbide i/w Aluminum
Silicon Carbide i/w Silicon
*This material is also a third-party qualified material
3. Research & Development Materials
These materials have been deemed printable by ExOne and our customers after preliminary analysis. Our R&D work for these materials is ongoing and involves engineering work with the materials, as well as our printers and processes, to ensure successful printing. If you are interested in collaborating on development of these or any unlisted materials, please contact us.

See All R&D Materials
Single Alloy Metals
4140
420
4340
4605
Aluminum 6061**
Bronze
Cobalt Chrome**
Copper**
H11 Tool Steel
H13 Tool Steel**
Hastelloy
Haynes 230
Inconel 625**
Iron-Chrome-Aluminum
Panacea
Titanium**
Tungsten (bonded or green)
Tungsten Heavy Alloy**
TZM Molybdenum
Ceramics
Alumina**
Aluminum Nitride
Barium Titanate
Boron Carbide
Carbon**
Glass
Lead Zirconate Titanate (PZT)
Natural Sands**
Silicon Carbide**
Silicon Nitride
Synthetic Sands**
Tungsten Carbide
Tungsten Carbide-Cobalt**
Zirconia
Zirconium Carbide
Ceramic-Metal Composites
Boron Carbide i/w Aluminum**
Silicon Carbide i/w Silicon**
Metal Composites
Iron i/w Bronze
Tungsten i/w Copper
Tungsten i/w Invar
**This material has also been qualified by customers or received our rigorous third-party qualification status.
Show Less
ExOne Fuse™ Binders
One of the reasons ExOne metal binder jet systems can print such a diversity of powdered materials is our portfolio of specialty Fuse™ binders, which deliver unique benefits for the material being 3D printed.
Binders must deliver certain characteristics that work harmoniously with the powder material being printed. Considerations include viscosity, saturation, bleeding in X and Y, as well as debinding characteristics. ExOne binders continue to be optimized to provide improved green strengths and other beneficial properties based on the material being printed.
Explore Binders
CleanFuse™ — A premium, clean-burning binder that leaves behind no carbon residue and works well with metallic materials negatively affected by carbon, such as Inconel powders
FluidFuse™ — A versatile solvent-based binder with low viscosity that works well with a variety of metallic and non-metallic materials, including ceramics
AquaFuse™ — A water-based binder that works well with a variety of metallic material
PhenolFuse™ — A phenolic binder best suited for printing high-temperature materials, including non-metallics such as carbon, tungsten carbide (WC), silicon carbide (SiC), and other ceramics
NanoFuse™ — A new line of groundbreaking binders featuring suspended nanoparticles to improve the quality of binder jetting results with certain materials, such as copper and aluminum.
Show Less