Tip sheet: Why cast metal with 3D printed sand?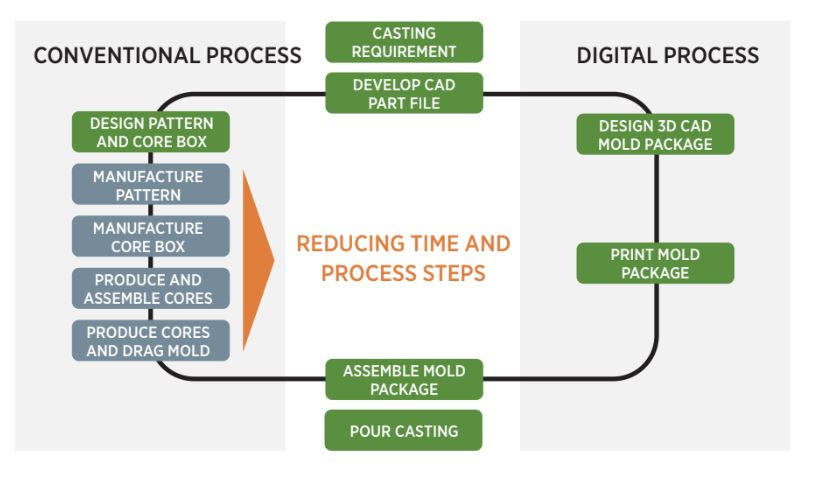 From faster delivery times and new design freedoms to optimized processing and overall cost savings, here's our tip sheet of 10 reasons to use 3D printed sand
OEMs and foundries are optimizing their products and business models with binder jet additive manufacturing technology from ExOne. By 3D printing molds and cores, castings with complex designs are delivered with fast turnarounds while saving money on patterns, tooling, and labor.
We've compiled a list of some of the many benefits of sand 3D printing for foundry operations - download the complete tip sheet to learn more.
Speed: Reduce delivery times
Design Freedom: Optimize final parts and mold package design
Less Labor Required: Do more with less
Rapid Iterations: Change designs without a cost penalty
Agile, Cost-Effective Production: Win new business with flexible manufacturing
Streamline Production: Complexity and dimensional accuracy lowers overall costs
Reduce Scrap: High-quality 3D printed molds and cores produce high-quality castings
Localize Manufacturing: Production when and where it's needed
Advance Lightweighting: Produce topology optimized parts
Eliminate Patterns and Core Boxes: Replace physical inventory with digital storage
Sand 3D Printing Solutions for Every Foundry
The S-Max family of sand 3D printers features a range of binder jetting systems to fit a the of footprint, production needs, and budget of every foundry.
Learn more about our machines