ExOne Now Offers AMClad® Industrial 3D Printed Tooling


AMClad® is a Fast, Durable, and Affordable Solution for Tooling and End-Use Designs
Manufacturers can now replace the high expense and long wait times required of conventional tooling with an AMClad solution. By 3D printing inexpensive sand forms and then strengthening those shapes with a patented infiltration and coating process, AMClad delivers tooling and end-use designs that eliminate extra steps, cost, and design limitations.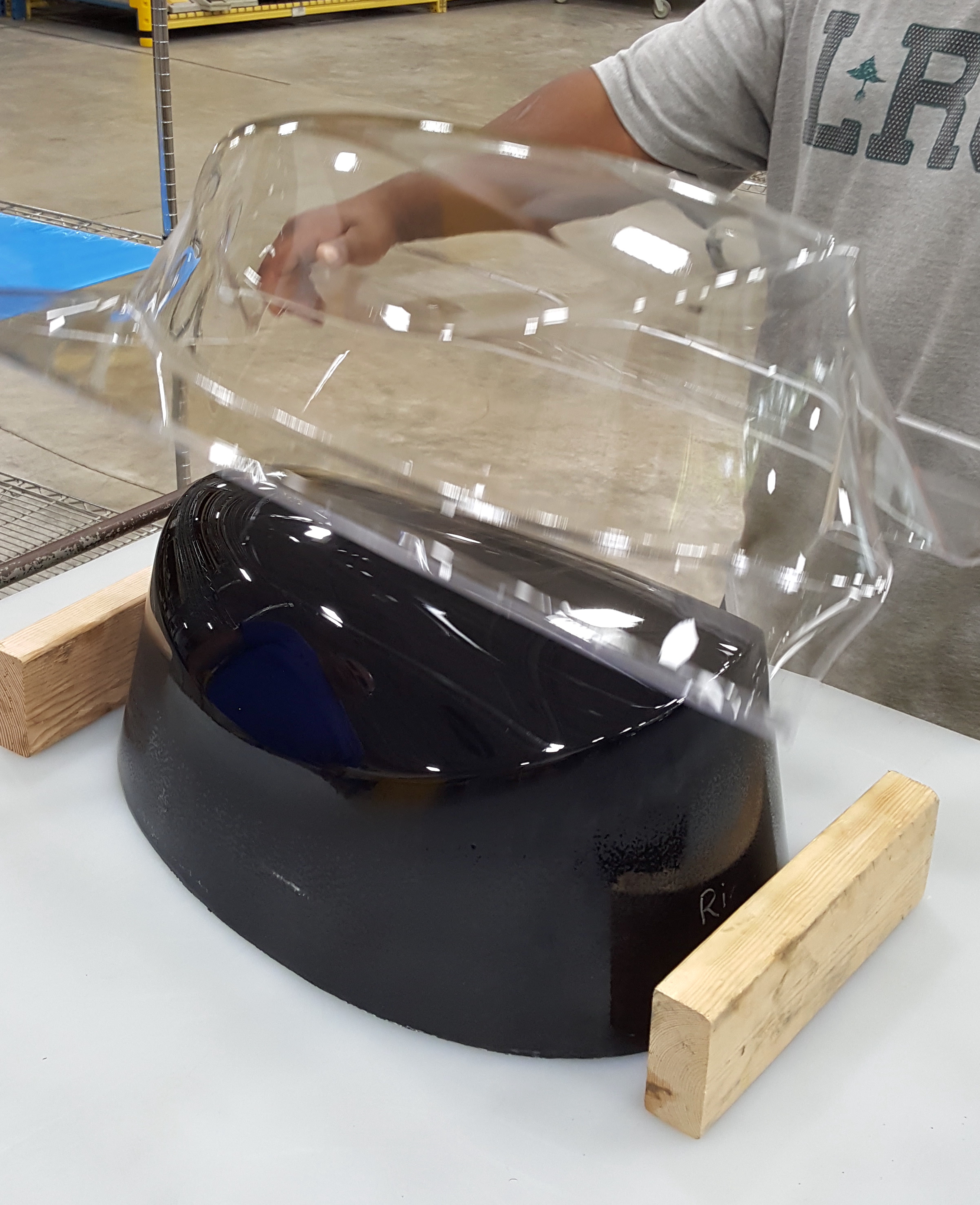 VIDEO: Watch this 3D printed tool being used in the vacuum-forming process.AMClad Tooling is durable enough to be used for a wide range of tooling applications, including:
Composite layup molding
Vacuum forming
Compression Molds
Urethane Casting Molds
Trim Fixtures
Hydroforming
Sheet Metal Stamping
AMClad tools are more durable than other low-cost tooling options and able to withstand high temperatures. They're durable enough for hundreds of cycles, and even allow for full vacuum to be pulled in the forming process, all without delamination or failure.
What's more, AMClad end-use designs are durable enough for rugged, outdoor applications. For example, an AMClad replica of the Statue of Liberty's Italian sister – the Liberty of Poetry – was featured at Ellis Island and now resides at Kent State University.
ExOne is now able to offer this solution following its recent acquisition of the assets of Freshmade 3D, an Ohio-based startup that developed the patented process of creating AMClad products on ExOne's industrial sand 3D printers. The AMClad process takes advantage of the fast output and large-scale capabilities of ExOne binder jet technology to quickly create complex shapes without hard tooling, printing directly from CAD models.
See the Flexibility of AMClad Tooling and Design
---
AMCLAD KEY FEATURES AND BENEFITS
Extra large tools and end-use parts: An ExOne S-Max® binder jetting system offers a build volume up to 70.9 x 39.4 x 27.6 in (1800 x 1000 x 700 mm) and can print base sand forms for AMClad parts in under 24 hours, enabling fast turnarounds for extra large tools.
Faster than conventional tooling: Eliminate weeks or months of time waiting for the production of tooling or end-use designs by 3D printing directly from CAD. Your sand form is then infiltrated and coated with proprietary materials to strengthen it for your application.
Cost-effective: By starting with inexpensive raw materials, such as sand, AMClad helps manufacturers reduce tooling costs 30-50%. What's more, large and durable end-use designs can even be produced without tooling altogether.
Strong and durable: AMClad products are strengthened with coatings that are capable of withstanding high temperatures up to 400° F (204° C) and also offer tensile and flexural strength better than ABS polymer, with a compression strength of about 20,000 psi.
Tailor your surface finish: The surface of AMClad products can be customized in a variety of ways. That includes unique designs for tooling or a variety of finishes for direct end-use parts.


Preliminary Technical Specifications


Tensile


up to 9,000 psi (62 MPa)

Compression

about 20,000 psi (138 MPa)

Flexural

up to 13,000p psi (90MPa)

Service Temperature

up to 400°F (204° C)

Accuracy

+/- 0.025" (0.64 mm)

Note: Properties are subject to change based on updates in epoxy/resin formulations
---

AMClad® for Design
AMClad allows architects, artists, and others to produce affordable, durable, and extra-large designs — suitable for outdoor installation — with customizable surface textures and finishes. Complementary technologies like 3D scanning capture original part geometries for AMClad reproduction at a reduced cost that enables universities and institutions to preserve historic monuments and artifacts. Final products are certified for interior and exterior architectural and restoration uses. Our AMClad technology has been used produce large-scale pieces from 9' statue replicas to exterior wall art pieces with integrated mounting.
---
The AMClad® Story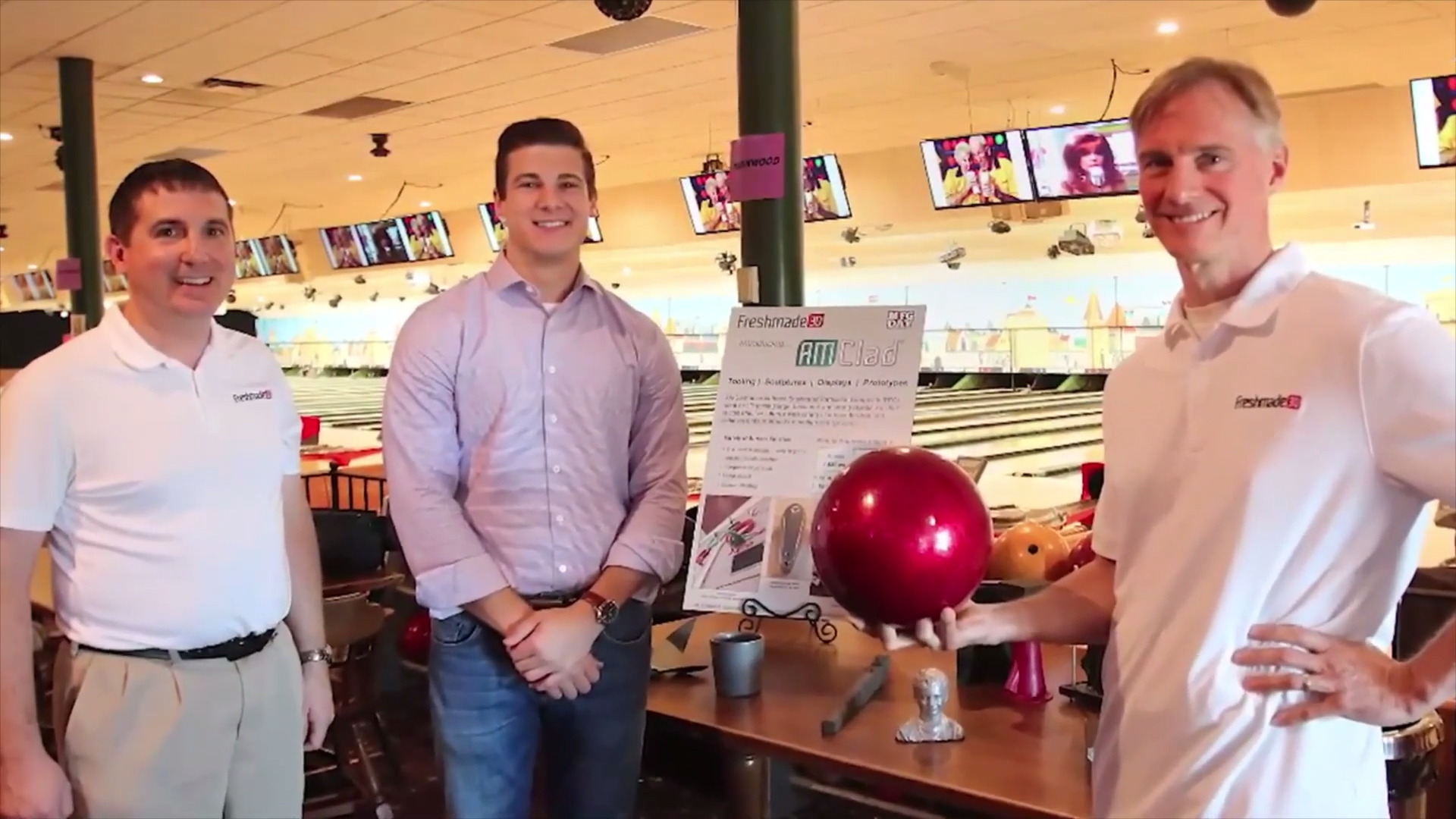 From left to right, Freshmade 3D founders: Dr. Brett Conner, Rich Wetzel and Christopher Tomko.Born out of necessity to fulfill the requirements of one project, the patented AMClad process was developed by Freshmade 3D, an additive manufacturing startup spun out of the Youngstown Business Incubator in Ohio in 2016.
The young company was commissioned for a unique project and needed a solution for larger-scale applications that could still take advantage of the digital workflow and speed to market of additive manufacturing while remaining cost effective. Their breakthrough came working backward to develop their innovation.
"We found an affordable solution that had no strength and then found ways to make it strong," said Freshmade 3D Co-Founder and COO, Christopher Tomko.
The patented AMClad process takes advantage of the fast output and large-scale capabilities of ExOne sand 3D printing technology to quickly create complex shapes without hard tooling, printing directly from CAD models. The products are then transformed into durable, functional parts by using a patented process to infiltrate and coat the 3D printed shape.
First introduced in 2017, AMClad has now been successfully utilized for a variety of durable, functional parts used for hard tooling, prototypes, and in artistic and architectural applications. ExOne acquired the assets of Freshmade 3D and the AMClad process in April 2021.
"We launched AMClad with the idea of using sand 3D printing technology to deliver hard tooling faster and with more design freedom, to enable U.S. manufacturers to produce more locally and faster," said Rich Wetzel, Co-Founder and CEO of Freshmade 3D. "ExOne is the best company to accelerate this technology as we scale up for customers who've decided to leverage our solution to meet production goals faster. Companies are just beginning to discover how robust and affordable this technology is over conventional tooling."
Fast, Flexible Solutions, From Tooling to Artwork

Rapid. AMClad delivers parts without the long lead times for hard tooling to speed time to market.
Versatile. Whether metal plated, powder coated, or replicating plaster or leather, surface finish and coloration is tailored to your application.
Affordable. Eliminate the costs of tooling by printing directly from CAD files in cost-effective raw materials.