Sand Mold Casting Applications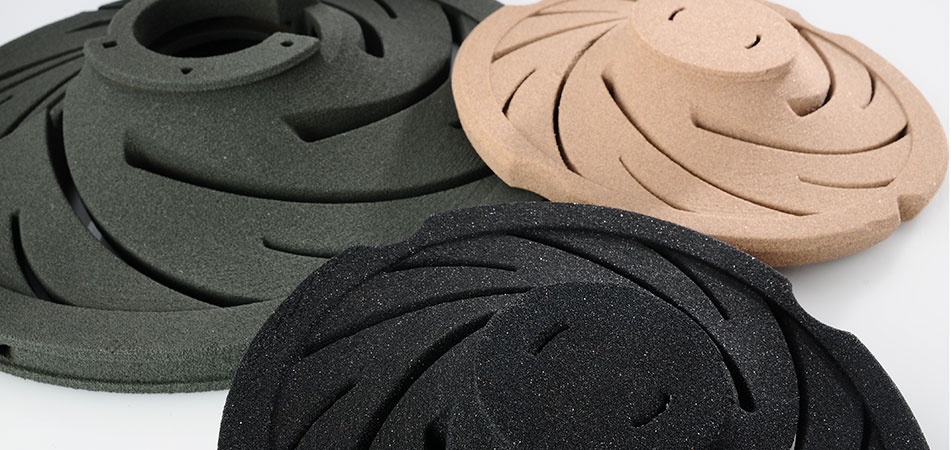 Sand Mold Casting Applications
3D Printing Molds and Cores for Sand Casting Offers Design Freedom and Improved Efficiency
Learn more about making molds and cores with 3D printing and how it could improve your manufacturing process – and budget.
A leader in additive manufacturing, ExOne has made significant investments in its technology for the 3D printing of sand molds and cores for casting. The 3D sand-casting process is a timesaving, cost-effective alternative to traditional prototyping and low-volume series production, and ExOne's binder jetting technology is a faster way to 3D print complex parts with foundry-grade industrial materials.
How Does Sand Casting Work?
From Design File to Sand Mold Casting
Starting with a 3D CAD design file, ExOne sand printing systems make molds and cores with our proprietary 3D printing technology – binder jetting. This eliminates the need for patterns and core boxes, which had historically been required in traditional casting applications. Pattern creation is time- and labor-intensive, reducing agility for manufacturers. Plus, completed patterns and core boxes need to be stored when not in use, and – some patterns for obscure or outdated products may wear down or get lost and need to be replaced after a time, contributing to overhead costs. And, since 3D printing is able to handle complex sand cores, it eliminates final core assembly.
3D printing molds and cores for casting allows manufacturers to make changes to a prototype with a quick update to the design file, and no physical storage space is required. Design freedom is one of the greatest advantages of the sand-casting process. With digital editing and design files - even large, complex mold and core designs can be carried out with increased uniformity and accuracy for a better, more efficient casting every time.
What Types of Metal Can Be Cast In Sand ?
The material and binder combination chosen for the casting mold will determine what final casting material can be used. ExOne sand printers are compatible with a variety of casting materials and binders that allow our clients to develop a mold that aligns to their final casting material as well as preferred finish characteristics. The primary types of metal that can be cast in sand molds produced by ExOne are:
Aluminum
Magnesium
Iron
Steel
Learn more about our materials and binders to determine which combination will give you the mold package, print resolution and surface finish, strength, or gas permeability you require in your final sand-casting products.
Making Molds with 3D Printing
After the designs are sent to the printer, and the material combination has been established, ExOne binder jetting technology creates the core or mold, which is then cured or finished as needed before it is ready to be poured. Making molds with ExOne 3D printing results in "near net" cast products, and some finishing may be required after the casting has been poured.
Because binder jetting is such an efficient process when compared to traditional casting methods, 3D printing molds for casting reduces critical overhead costs. It's quick response time, minimal downtime between batches, and low tooling costs make it ideal for prototyping new designs, small runs of aftermarket products without available tooling, and serial production.
Integrate Systems or Print on Demand
Foundries and pattern shops as well as Original Equipment Manufacturers (OEMs) have integrated ExOne sand printing systems into their manufacturing lines to accommodate regular sand mold casting production. The availability of foundry-grade materials and binders and fast turnaround time for 3D printed molds and cores for casting, has helped our customers create high-quality castings and generate efficiencies in their process.
We also support clients by making custom molds and cores with 3D printing on demand. Our on-demand sand printing process can handle prototypes for rapid product development as well as low-volume series production. Request a quote to learn more about 3D printing applications for casting at scale, and determine the best approach for your needs.