ExOne Expert: Dawn Ramos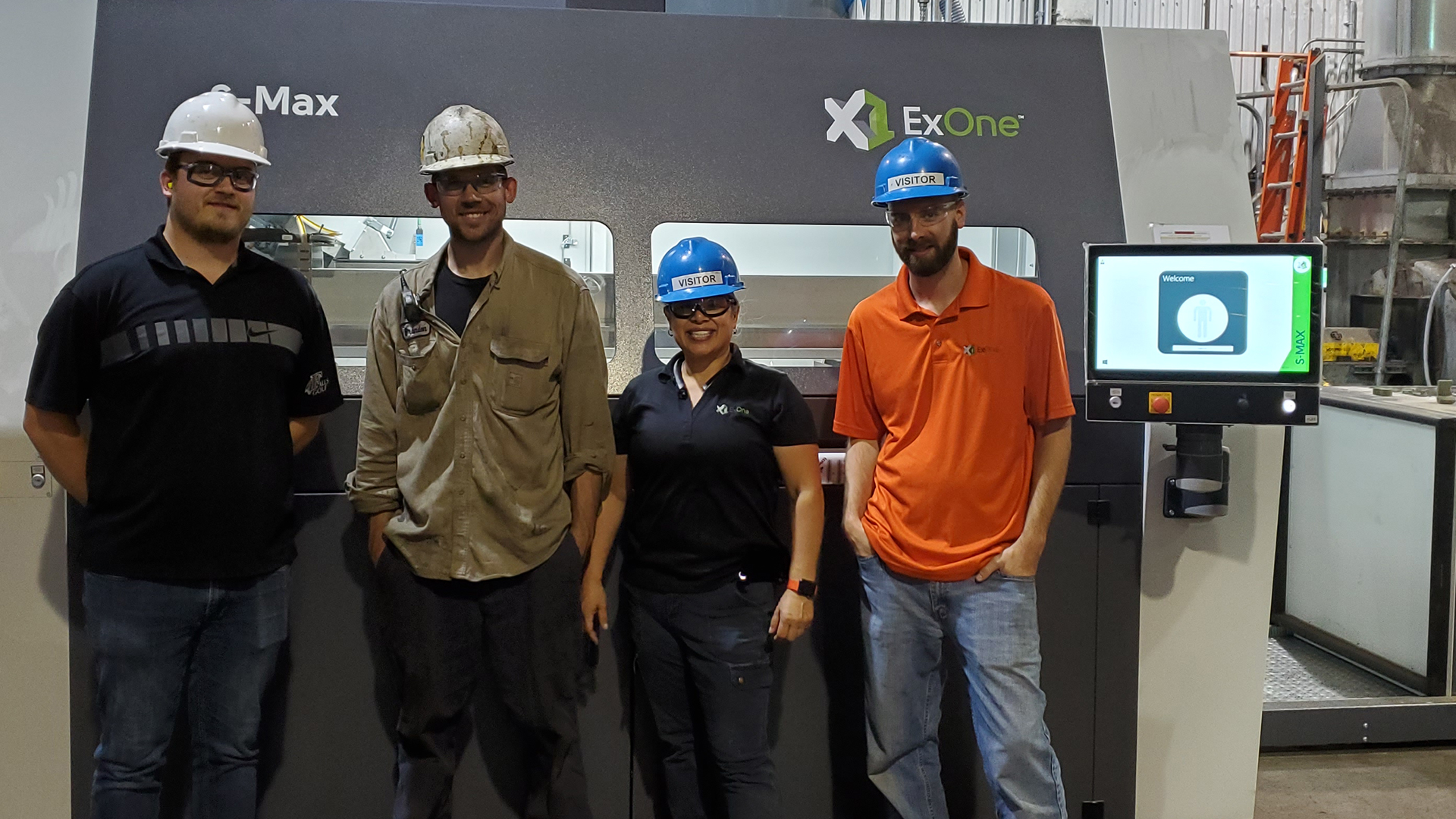 Our Senior Technical Lead has worked on systems from the first metal machines to the newest sand binder jetting installs
Within a team of binder jetting pioneers, Senior Technical Lead Dawn Ramos is a pioneer in her own right. She was part of the team developing the first ExOne metal 3D printing process at a customer site nearly 20 years ago, she installed the first new-generation S-Max Pro at a customer site earlier this year, and has set the standard for in-person customer service while being the only female service technician at the company.
Whether installing a new system, diagnosing and fixing a down machine, or developing work instructions to support the virtual help desk, she's developed a deep understanding of ExOne machines, and its customers. At one point during the COVID pandemic spending 73 days straight on the road to support ExOne customers around the country working on sand 3D printer maintenance. She says she feels fortunate to work in such an exciting field. "I love the challenge. I love when there's something wrong and I fix it – figure it out and solve it so we can move on. I just love what I'm doing," she said.




I love opening eyes and showing people another perspective. I feel blessed that today customers ask for me by name.

Dawn Ramos
Senior Technical Lead - Sand



Ramos joined ExOne in 2000, then still part of Extrude Hone, with the market rollout of the company's first metal 3D printer, the RTS 300. Hired as the first full-time technician for the company, she jokes, "That's when I learned to detail and document any time the machine hiccupped, and it really helped me understand the machine in the process."
In 2013, she was called upon to open an ExOne sand 3D printing service center on the west coast, noting that when she started, she "walked into a facility that was 11,000 feet and just four walls." Building a 5S, ISO certified manufacturing facility from the ground up gave her a unique understanding from the customers' perspective. From planning the facility for efficient production, managing production schedules, and daily machine operation, her role as Site Manager afforded her an understanding of the full spectrum of customer challenges in their daily business.
"I love the travel and experiences of my job. I love seeing the different cultures at our customers," she said. "It's interesting to me to see how they run their facilities because I've set them up before and now, I've been inside mom-and-pop shops all the way up to major, multi-million-dollar facilities."
As the senior technician for sand products, Ramos is building a team to support customers, and each other. Because of the relatively new binder jetting technology, finding experienced technicians is challenging. With a young, passionate team, she's focused on training them to be customer oriented and "be a sponge." Admitting that knowing a machine inside and out like she does can only come with years of experience and guidance, "It takes time to see every issue out in the field," she said. So, she trains the team to understand the machine as a whole and reach out to her and to each other to identify the issue to be solved even if they haven't come across that particular error before.
Aside from her own accomplishments, she's proud of the team ExOne puts in front of customers. Being at a site while the machine is down is always a stressful situation, which Ramos understands. "When you get into their world, they need these machines to continuously operate because that's their money maker," she said. "So, if it's down, it's impacting them."
Walking into these stressful situations as part of her job, she recognizes the need to feel confident jumping in the deep end to find solutions. "I'm about as strong a swimmer as Michael Phelps from being dropped into the ocean," she joked.
Being a woman in a male-dominated industry has also made Ramos the proverbial professional swimmer in rough waters. Having spent her career in the automotive, industrial, and manufacturing sectors, Ramos is used to working in male dominated spaces, recalling how customers would often look past her waiting for "Don" to arrive. But she laughs noting she gets satisfaction from winning them over with competent service, answering "I hope so" to their surprise that she "knows what she's doing" and watching their attitudes evolve from skeptical to appreciative as they watch her get to work. "I love opening eyes and showing people another perspective. I feel blessed that today customers ask for me by name," she said.
Ramos also laughs because of the expert skills she's learned because of her unique position. She recalls, "All the guys with their big paws had trouble with the printheads. Since I have small hands, I was really good at getting in the printheads and just got really good at taking them apart and fixing them."
Speaking with Ramos you feel the passion for her job through her words – stories of past projects and colleagues, lessons learned, experiences lived, and an optimistic outlook as the industry continues to grow. With a smile she shares how she's watched number of machines in the field increase, knowing that she's been a part of development projects and installs for over two decades. As she continues travelling the country bringing binder jetting success to customers, she values the team who helped her along her journey, acknowledging that she wouldn't be where she is today without the help of colleagues, past and present, as well as her family.