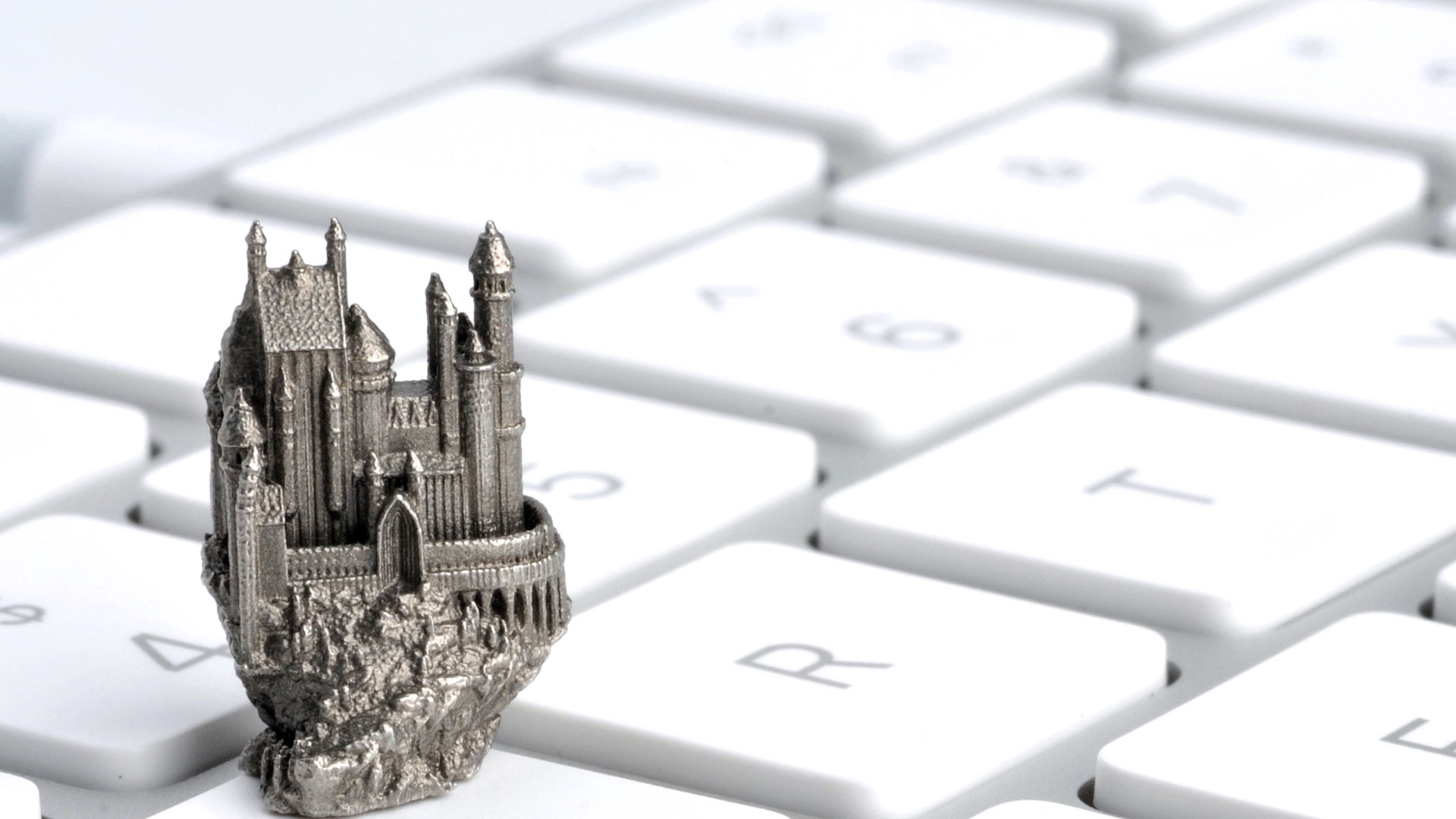 Our Story
ExOne traces its roots back to 1995 with the founding of the "ProMetal" division of Extrude Hone — a business unit created to develop metal 3D printers.
The following year, Extrude Hone obtained an exclusive license to commercially develop inkjet 3D printing processes invented at the Massachusetts Institute of Technology (MIT) for use with metal, ceramic, and sand materials.
A New Vision for Manufacturing
The agreement was a forward-looking move by the late Larry Rhoades, who served for 35 years as CEO of Extrude Hone, a global supplier of machining and automation systems in Irwin, Pennsylvania. Within manufacturing, Rhoades was regarded as a machine tool visionary. He held more than 25 patents in nontraditional manufacturing processes for machining, finishing, forming, and measurement, and he was quick to see the value 3D printing could offer manufacturing in terms of geometric design freedom, waste reduction, and increased speed to market.
In 1998, Extrude Hone launched the industry's first commercial direct metal 3D printing machine using the binder jetting technology invented at MIT — the ProMetal RTS-300. The novel system printed a binder into a powder bed of metal particles and produced "green parts" that were later debound and sintered. The first system was installed at Motorola.
Extrude Hone followed that breakthrough quickly in 1999 with the R10, its second binder jet metal 3D printer. Like all of the ExOne metal 3D printing systems that would follow, the new model featured technical development improvements based on customer feedback and critical knowledge gained from ExOne's own use of the technology.
New Moves into Sand 3D Printing
In 2002, Extrude Hone also entered the sand 3D printing market with the S10, a machine that 3D printed sand molds and cores for use in metal casting. The process is sometimes called "indirect" 3D printing because the objects being printed are used to create the final manufactured object.
The following year, ExOne reached a licensing agreement with Generis GmbH, a German company, to continue development of commercial sand 3D printing machines. One of the co-founders of Generis, Rainer Hoeschsmann was later named General Manager of ExOne GmbH in Augsburg, Germany, where the company continues to have operations today.
The move into sand 3D printing was a fortuitous one because, as the company would later discover, adoption of indirect sand 3D printing was faster than other parts of the 3D printing market — likely because the final metal casting process was already familiar to most manufacturers.
The Birth of ExOne
From 2002 through 2005, the company launched three new 3D printing systems, including the:
R2 metal 3D printer, which was such a robust and popular model that it continues to be used by customers today, including in production and research environments
X1-Lab, a metal 3D printer aimed at dental customers for the direct production of metal, specifically gold, crowns and bridges
S-Print, which would go on to become a fixture in the company's product family and a well-known sand printer in the foundry market
This strong series of introductions firmly solidified ExOne's reputation as the company that commercialized the binder-jetting branch of the growing 3D printing marketplace for both metal, sand and other materials.
In 2005, Rhoades was so confident about the future of his 3D printing venture that he sold Extrude Hone to Kennametal, a global supplier of tooling and industrial materials, and transferred the assets of the 3D printing business to "The Ex One Company, LLC ." The name was derived from the Extrude Hone company he had founded decades earlier based on a patent owned by his father.
Changing Times for ExOne
In 2007, change came abruptly to ExOne when Rhoades died unexpectedly while vacationing in Hawaii. That year, the business was purchased by a company wholly owned by S. Kent Rockwell, who has led the company ever since as Chairman of the Board of Directors. He also served as CEO from 2013-2016 and for an interim period from June 2018 to May 2019.
In 2013, the company restructured, modified its name to The ExOne Company and completed a successful initial public offering on the Nasdaq. ExOne's IPO was recognized as one of the strongest IPOs of 2013, according to Wyatt Investment Research and StreetInsider.
By 2019, ExOne had successfully launched more than a dozen 3D printers for metal, sand, ceramic and composite materials. About half of the ExOne machines installed around the world are used to 3D print molds and cores for metal casting, while the other half are being used to directly 3D print metal, ceramics and composite parts.
ExOne Moves Binder Jetting to Production
Today, ExOne is the trusted market and thought leader in binder jet 3D printing systems. Manufacturers, universities and researchers around the world routinely use ExOne 3D printing systems, and our teams work closely with manufacturers to develop and optimize 3D printing solutions for specific engineering and manufacturing challenges.
Increasingly, our customers are using 3D printers for production manufacturing, in addition to research and prototyping. Several innovative global brands are 3D printing high-value, end-use parts, and our most innovative customers are consolidating several parts into one for 3D printing that delivers extreme efficiencies.
The most important element of our success, however, is our team. ExOne is home to the most seasoned binder jet 3D printing experts in manufacturing today. They also remain as committed as ever to the company's original vision — to use 3D printing to manufacture parts faster, eliminate waste, and enable once-impossible, world-changing innovations.