Innovent+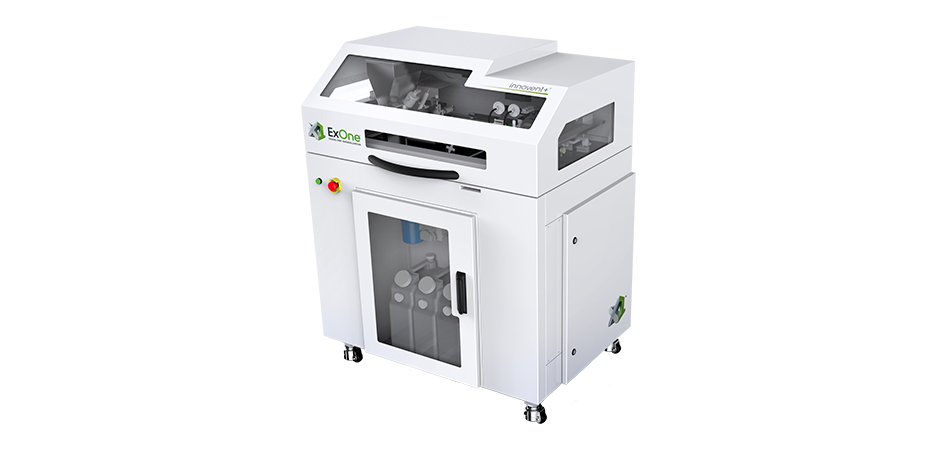 Increase Printing Capabilities with the Innovent+
Innovent+ offers an upgraded Ultrasonic recoater that is capable of working with a wider range of powders and simplifies powder change over.
Expanded dust collection options are now available with the Innovent or the Innovent+.
NORTH HUNTINGDON, Pa., September 20, 2017 – The ExOne Company (NASDAQ:XONE) ("ExOne"), a global provider of three-dimensional ("3D") printing machines and 3D printed products to industrial customers, announced the release of their newest system, the Innovent+. Based on the Innovent platform, the Innovent+ has increased powder handling capabilities. The system comes with the new Ultrasonic recoater designed for material flexibility and ease of use. The Ultrasonic recoater is the most advanced powder disposing technology in the market. It can be quickly removed for system cleaning or powder change over. Each recoater comes with four screen configurations which allows for greater material compatibility.
Expanded dust collection options are now available as well. Dust collection has been localized to pull powder from around the buildbox and utilizes a dust particulate remover with a variable control knob that allows the user to adjust the CFM units pulled. Dust collection options are now available for the Innovent and the Innovent+.
ExOne will begin taking orders for the Innovent+ on April8th. Customers can see the Innovent+ on display at AMUG 2018, April 8-12 in Booth D6.