ExOne 3D Production Adoption Services for Metal Binder Jetting 
We hear it every day: How do I get started? Whether you have a unique part design that you think is right for 3D printing or simply want to unleash all the benefits of binder jetting at your company, we can help. Our adoption process minimizes your risk and maximizes your success. 
In fact, you won't find a more experienced team in binder jet 3D printing anywhere in the world. ExOne commercialized the first metal binder jetting system in 1998, and we've been running our own metal production center outside of Pittsburgh for more than 20 years.
While 3D printing has been around for a while, we know that moving to 3D printing for production is still new for most manufacturers.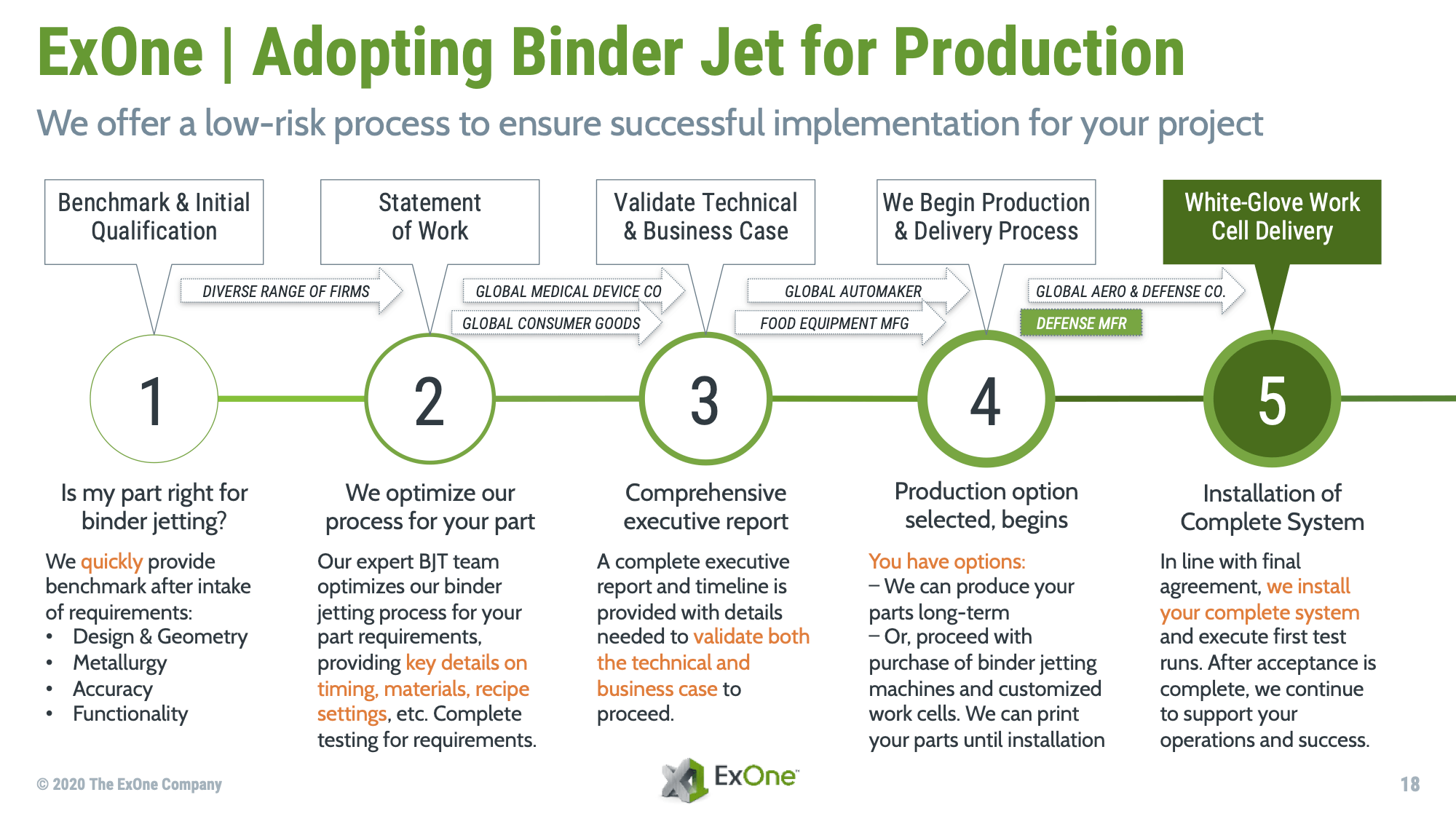 DOWNLOAD PROCESSAt ExOne, we can help you unleash all the benefits of 3D printing — geometric freedom, lightweighting, part consolidation, waste reduction, and more — while minimizing the risk that comes with a major shift in production strategies.
We've honed a step-by-step adoption process that gives your team critical technical and business checkpoints that de-risks your transformational move to metal binder jetting. We know what it takes to get it right, and we're committed to making your move a success.
At ExOne, we don't just sell production binder jet 3D printers — we sell a complete solution crafted by a team that's been binder jetting metal for more than 20 years. When you do business with ExOne, we become an extension of your team and partners in your success.
Metal 3D Production is a Big Change — Let's Get it Right
Step One | Benchmark and Initial Qualification
We quickly assess your part and provide a benchmark after a detailed intake of your requirements:
Design & Geometry

Metallurgy
Accuracy
FunctionalityStep Two | Statement of Work
Our expert BJT team optimizes our binder jetting process for your part requirements, providing key details on timing, materials, recipe setting and more. We also provide complete testing for requirements.
Step Three | Validate Technical and Business Case
We provide a comprehensive executive report containing all of the technical and business details you and your team need to finalize a decision about the best way to proceed for your company.
Step Four | We Begin Production & Delivery Process
We offer you options to proceed:
We can being producing your parts long-term through our Pittsburgh-area production center
Or, you can proceed with the purchase of a binder jetting machine and work cell customized for your needs.
We can also 3D print your parts for production until installation of your system.
Step Five | White-Glove Work Cell Delivery
We install your complete system, as agreed, execute the first test runs and continue to support your operations and success.
Our System is Proven and Works
We have a number of global manufacturers who are moving through this process for the purchase of X1 25Pro and X1 160Pro production metal 3D printers.
Let ExOne 3D Print Your Metal Parts
Our high-quality service is fast and affordable. Many material options available.
request quote
Kennametal
Die Binder Jetting Technologie ist für uns eine Schlüssel Technologie, die es ermöglicht unsere unterschiedlichen Verschleißmaterialien, wie Wolframkarbid und Kennametal Stellite Legierungen, zu verarbeiten. Als Zulieferer solcher Zusatzwerkstoffe und –kombonenten freuen wir uns sehr, gemeinsam mit ExOne an der Entwicklung modernster Technologien zusammenzuarbeiten, um den Wandel von der Prototypenherstellung zur Serienfertigung zu schaffen.