ExOne Employee Honored by the Additive Manufacturing Users Group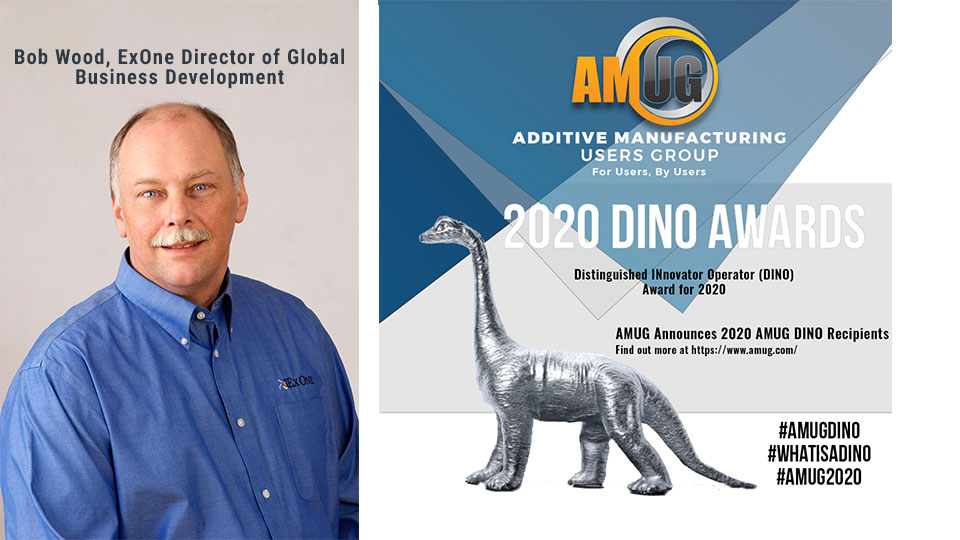 Bob Wood Receives Distinguished Innovator Operators Award
NORTH HUNTINGDON, PA, July 20, 2020 – One of ExOne's long-time employees and additive manufacturing experts, Bob Wood, has been named a 2020 recipient of the Additive Manufacturing Users Group (AMUG) most prestigious award, the Distinguished INnovator Operators Award (DINO).
AMUG's mission is to educate and advance additive manufacturing technologies, and the DINO award recognizes individuals for both their contributions and years of experience with additive manufacturing technology. Over its 32-year history, AMUG has awarded DINOs to 168 individuals, granting about ten awards a year.
Wood currently serves as Director of Global Business Development at ExOne, where he is responsible for the commercialization of ExOne's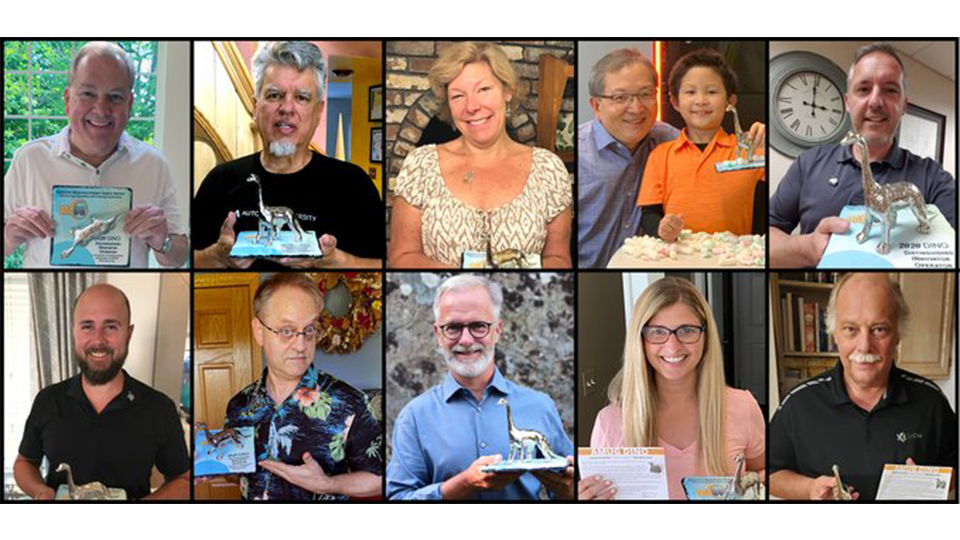 2020 AMUG DINO Award Recipientsdirect binder jet systems, which print metal, ceramics and more.
Over the years, Wood has worked extensively with a large number of universities, government entities and commercial organizations, who perform research, development and manufacturing using ExOne technology. He has been active in the 3D printing industry for more than 15 years.
Wood has been with ExOne since the company's inception within Extrude Hone, prior to its spin out of ExOne as its own entity. He has held various other positions at ExOne, including Director for Direct Materials, Director – ExTec, ProMetal General Manager, and head of North America Operations.
"I am truly honored to be selected as one of this year's DINO award recipients, and I congratulate the other honorees," Wood said. "There are many talented and knowledgeable professionals in the additive manufacturing space and to be recognized as one of them is very humbling. I am also very thankful that ExOne has been a strong supporter of AMUG and my activities with them."
"We are extremely proud of Bob and all of his accomplishments and contributions over the years to both ExOne and to AMUG," added John Hartner, ExOne CEO. "Bob brings invaluable additive manufacturing knowledge and expertise to ExOne, and is he very deserving of this award."
Due to the postponement of the 2020 AMUG conference, the awards were delivered to recipients and presented during a virtual awards ceremony. Through direct contributions of time and energy, this year's honorees have a long history in additive manufacturing and years of contributions to the AM industry and AMUG. AMUG recently announced the award recipients via a press release on its website.
About ExOne
ExOne is the pioneer and global leader in binder jet 3D printing technology. Since 1995, we've been on a mission to deliver powerful 3D printers that solve the toughest problems and enable world-changing innovations. Our 3D printing systems quickly transform powder materials — including metals, ceramics, composites and sand — into precision parts, metalcasting molds and cores, and innovative tooling solutions. Industrial customers use our technology to save time and money, reduce waste, improve their manufacturing flexibility, and deliver designs and products that were once impossible. As home to the world's leading team of binder jetting experts, ExOne also provides specialized 3D printing services, including on-demand production of mission-critical parts, as well as engineering and design consulting. Learn more about ExOne at www.exone.com or on Twitter at @ExOneCo. We invite you to join with us to #MakeMetalGreen™.
Contacts
Media:
Sarah Webster
Global Marketing Director
724-516-2336
sarah.webster@exone.com