The S-Max Pro: Ready for Production
The fastest and smartest large sand 3D printer from ExOne


Advanced Sand Binder Jetting For Sustainable, High-Quality Production
Binder jet 3D printing for serial production is finally possible with the S-Max Pro, the fastest and smartest sand 3D printer from ExOne.
The new S-Max Pro has all-new features and functionalities for faster, reliable production of sand molds and cores for precision metalcasting. With a build box of 1.800 x 1.000 x 700 mm* (70.9 x 39.4 x 27.6 in.), the new system offers a total build volume of 1260 liters. It has a new, fully automated printhead that has up to 25% faster printing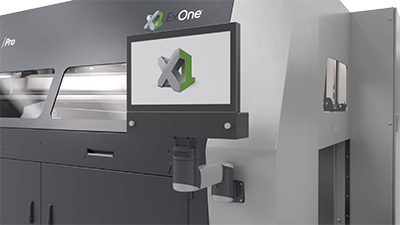 speeds and can process all ExOne binder systems (Furan, CHP, HHP, Inorganic). Our fully automated recoater option automatically adjusts to different kinds of forming materials, allowing for fast and easy changeover of materials.
What´s more, the innovative box-in-box system with integrated depowdering and heated base plate capabilities, allows for fast and easy removal of the job immediately after printing. That's just one feature enabling continuous production 24/7.
The S-Max Pro has a new intuitive control system from Siemens, with industry 4.0 integration and cloud connectivity. In all, the S-Max Pro is scalable for fully automated production.
KEY FEATURES AND BENEFITS
Printhead: Fully automated printhead that can process all ExOne binder systems
Recoater: Optional recoater automatically adjusts for easy printing of different materials
Box-in-Box System: Innovative new system allows for easy and fast removal of parts for post-processing
Control System: Intuitive Siemens Control system with Industry 4.0 integration, cloud connectivity and recipe control
* 1.800 x 1.000 x 400 mm (70.9 x 39.4 x 15.7 in.) with box-in-box-system