ExOne Launches New Sand 3D Printing Network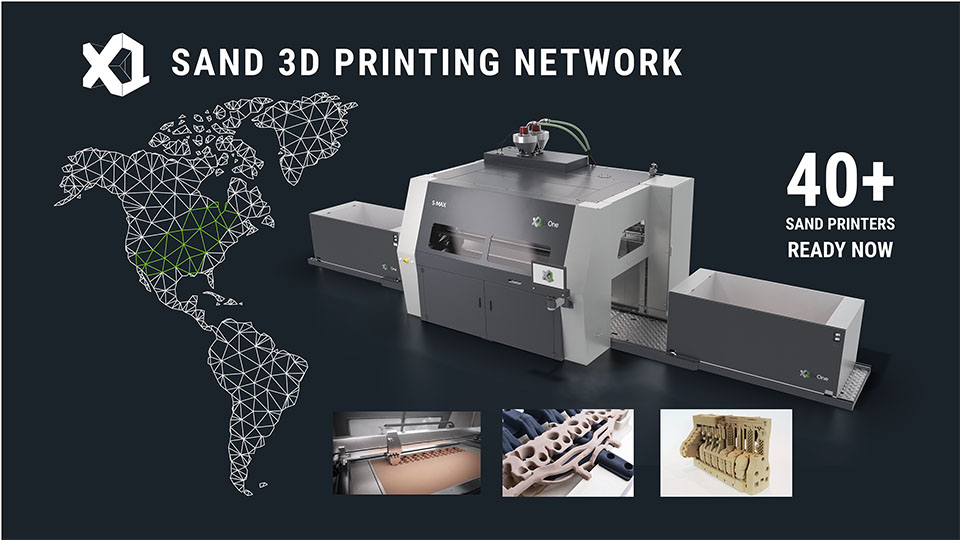 New Network Powered by More than 40 Industrial Binder Jetting Systems
Manufacturers can now easily tap the benefits of 3D printed molds and cores across North America
Network can help ensure a stable supply of metal casted products during the COVID-19 crisis
A wide range of foundry materials are supported by the network, from aluminum to zinc
NORTH HUNTINGDON, PA, July 28, 2020 – The ExOne Company (Nasdaq: XONE), the global leader in industrial sand and metal 3D printers using binder jetting technology, today announced the creation of a Sand 3D Printing Network in North America, which aerospace, automotive, agricultural and other manufacturers can use to tap the benefits of 3D printed sand molds and cores for high-value metal casting projects.
The newly formed network is powered by more than 40 proven binder jet 3D printers throughout the United States, Canada and Mexico. Largely owned by premium pattern shops and foundries, this fleet of S-Max and S-Print systems can provide quick turnaround on high-quality 3D sand molds and cores, usually within 3-5 days. To locate an ExOne sand 3D printer in the network for your project, visit https://www.exone.com/sandnetwork.
"The new ExOne Sand 3D Printing network can help manufacturers easily locate an ExOne sand 3D printer that best meets their needs," said John Hartner, ExOne CEO. "What's more, our network can help ensure a steady supply of sand molds and cores for metal castings, especially during a crisis, as well as enable reshoring of key parts that may be difficult to ship during the ongoing COVID-19 pandemic."
Aside from speed, ExOne's sand 3D printing network offers manufacturers a number of other benefits:
Sand cores can often be 3D printed as a monolithic unit – eliminating the labor, error and scrap that comes with assembling separate cores into a single piece prior to casting
3D printing enables manufacturers to overcome traditional design restraints and easily iterate breakthrough new designs with ease
New 3D-enabled rigging, riser and gating designs can ensure a high quality casting that can be simulated and often completed in a single pour
3D printed molds and cores are a digital manufacturing process and do not require the expensive creation, storage or repair of patterns or molds for later reuse
The ExOne Sand 3D Printing Network can support a wide range of foundry materials, including aluminum, bronze, copper, nickel-based alloys, iron, magnesium, steels, titanium and zinc.
ExOne's premium OneCast support service can also provide design assistance for sand molds and cores, as well as additional simulation services to help ensure a done-in-one casting.
About ExOne
ExOne is the pioneer and global leader in binder jet 3D printing technology. Since 1995, we've been on a mission to deliver powerful 3D printers that solve the toughest problems and enable world-changing innovations. Our 3D printing systems quickly transform powder materials — including metals, ceramics, composites and sand — into precision parts, metalcasting molds and cores, and innovative tooling solutions. Industrial customers use our technology to save time and money, reduce waste, improve their manufacturing flexibility, and deliver designs and products that were once impossible. As home to the world's leading team of binder jetting experts, ExOne also provides specialized 3D printing services, including on-demand production of mission-critical parts, as well as engineering and design consulting. Learn more about ExOne at www.exone.com or on Twitter at @ExOneCo. We invite you to join with us to #MakeMetalGreen™.
Contacts
Media:
Sarah Webster
Global Marketing Director
724-516-2336
sarah.webster@exone.com