HV3DWorks LLC and ExOne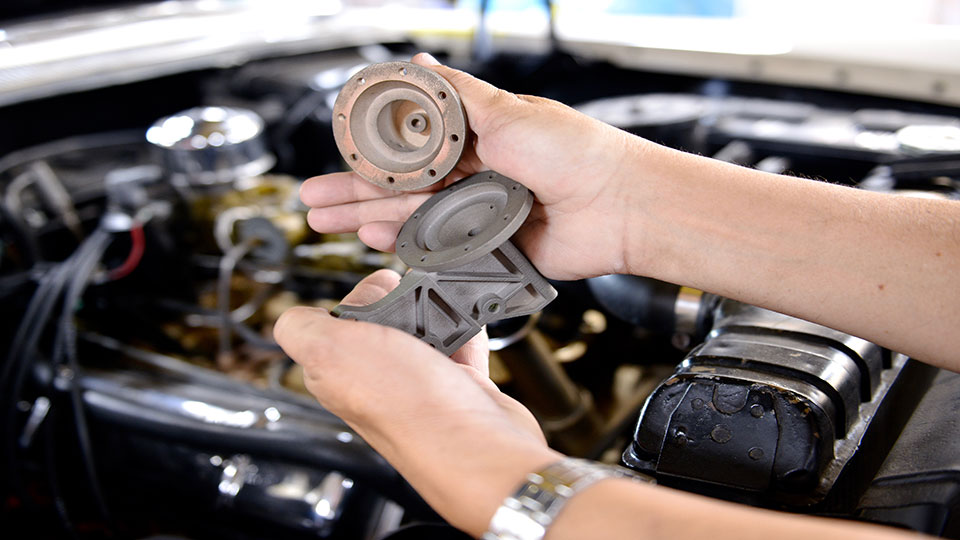 HV3DWorks Uses ExOne Binder Jet 3D Printing to Replace a Damaged 65-Year-Old Fuel Pump
CHALLENGE
A customer in Australia needed to have a Corteco fuel pump body reproduced for use on a 1951 Alfa Romeo 6c 2500 engine. The original fuel pump was over 65 years old, made of pot metal and was cracking in several areas.
SOLUTION
The customer sent the original fuel pump to serve as a design guide. The parts were modeled and initially produced in plastic to confirm fit and finalize the design. Once the design was approved, the parts were printed in 316 Stainless Steel infiltrated with bronze. What's more, the part was improved with the addition of some internal wall thickening and fillets. The customer owns a business that specializes in carburetors and fuel system parts for vintage automobiles and will be able to leverage this design in the future.
THE EXONE ADVANTAGE
ExOne's ability to produce high-quality components directly from design files significantly minimized production, allowing HV3DWorks to meet the customers' deadline. The 316 Stainless Steel infiltrated with bronze was an ideal material choice. The replacement fuel pump was produced for less than half the cost of an original on the open market, if one could even be found.
PROJECT DETAILS
HIGHLIGHTS
• Part: Fuel pump body for a 1951 Alfa Romeo 6c 2500 engine
• Process: Binder jet 3D printing on an ExOne M-Flex 3D metal printer
• Material: 316 Stainless Steel infiltrated with bronze
KEY BENEFITS
• Production Time: 10 weeks, including CAD design, 3D metal printing and post production
impregnation and thread clean-up
• Machine and Polishing Time: 4 hours
• Original Part Cost: Estimated $2,500, if the part can even be found
• 3D Printing Cost Savings: $1,000, saving the customer $1,500
• Updated design not possible with traditional manufacturing methods
Click here to read the case study.