HV3DWorks LLC and ExOne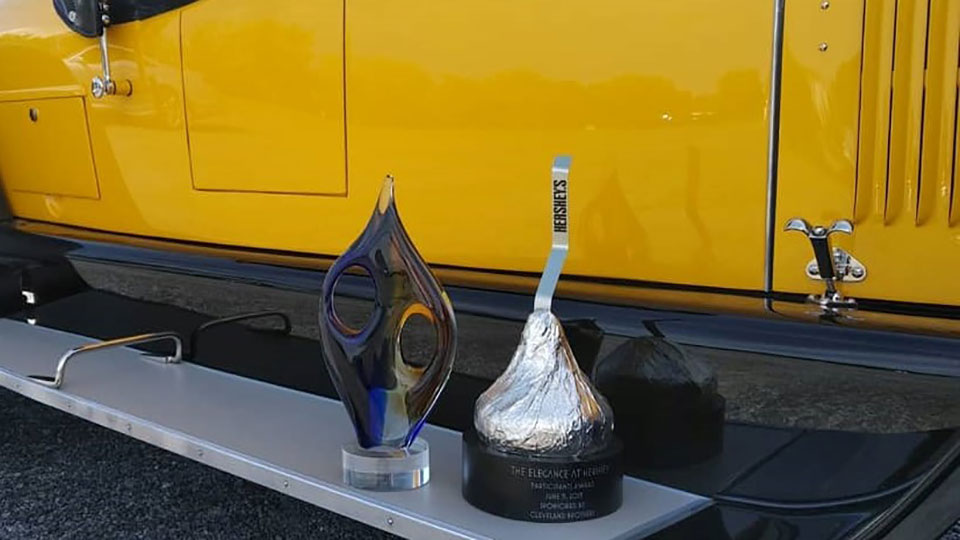 HV3DWorks Recreates Obsolete Hood Latches for Pebble Beach Competitor with ExOne 3D Printing
CHALLENGE
A client restoring a 1921 Kissel Gold Bug Speedster for the 2018 Pebble Beach Concours d' Elegance in Monterey California, needed to have a full set of four hood latches recreated. The time constraint and one-off nature of the parts concluded there would not be an opportunity to utilize traditional manufacturing processes to meet the deadline.
SOLUTION
The client sent a borrowed hood latch to serve as a design guide. The parts were quickly modeled and produced in 316 Stainless Steel and infiltrated with bronze using ExOne's metal 3D binder jetting technology. Turnaround time on the parts was under 4 weeks which provided enough time for chrome plating and installation before the vehicle was transported to California. The vehicle won "Best in Class" at the show and was featured on Motor Trend TV's "Long Road to Monterey" program.
THE EXONE ADVANTAGE
ExOne's ability to produce high-quality components directly from design files significantly minimized production time, allowing HV3DWorks to meet the customers' deadline. The 316 Stainless Steel infiltrated with bronze was an ideal material choice for strength and durability.
PROJECT DETAILS
HIGHLIGHTS
• Part: 1921 Kissel Gold Bug Speedster hood latches
• Process: Binder jet 3D printing on an ExOne M-Flex 3D metal printer
• Material: 316 Stainless Steel infiltrated with bronze
KEY BENEFITS
• Production Time: Four weeks, including CAD design, 3D printing and pre-plating.
• Original Part Cost: Part was obsolete and could not be found
• 3D Printing Cost: $225 per latch set ($400 final price after post-production work)
• Performance Benefit: 3D printed pieces have strength and durability
Click here to read the case study.