ExOne Expert: Howard Rhett
Our Product Manger brings decades of experience in all facets of additive manufacturing to help de-risk the adoption of metal 3D printing.
As many in the additive manufacturing industry, Howard Rhett began his career in mechanical CAD. And much like trying to explain to kids today who know nothing before life with cell phones, he feels like a historian having lived through the transition from traditional prototyping and the monotony of surface and wireframe modeling to today's completely digital workflow that can deliver a dense metal part in under 48 hours.
As Product Manager for the newest system offering in ExOne's 3D printing portfolio he equates the potential of 3D printing to Star Trek Captain Picard's Replicator where he can order "Tea, Earl Grey, Hot," and it's instantly fabricated exactly the way he wants it. "We're aiming to get there where you can choose the right material and get it just the way you like it as quickly as possible," Rhett says. De-risking adoption to make metal additive manufacturing accessible to a wide range of users is the idea behind his product's "Print Today, Parts Tomorrow" slogan – one he lives by having an ExOne DesignLab in his basement woodshop to run benchmark parts for customers during the pandemic.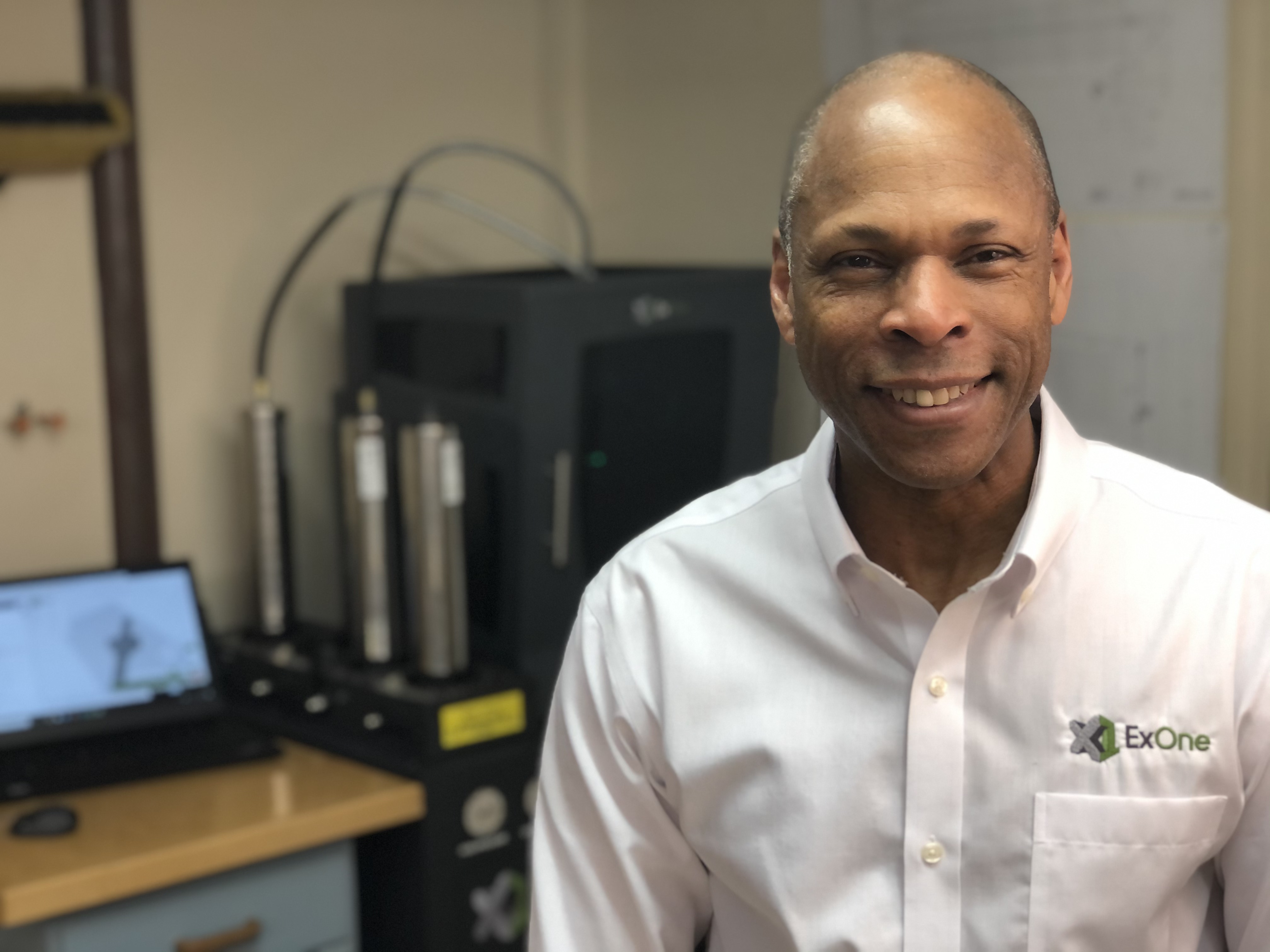 The technology – the 3D printing – is all that matters. There's a problem that needs to be solved, there's a market where there's an opportunity, and there's a technology from which we can fulfill those needs.



Howard Rhett
Product Manager, ExOne Metal Designlab
With the evolution of digital CAD, Rhett had a front row seat to the progress of engineering technology. As engineers began creating more and more digital designs, they needed more ways of being able to manufacture products. As 3D printing technologies started to mature in the 1990s, he again saw the progression as additive started to dovetail CNC as a manufacturing option. Being part of this growth in the additive industry, he has worked with leading engineering software and additive manufacturing equipment companies alike including Siemens PLM, Dassault Systems, PTC, 3D Systems, Stratasys, and Viridis3D. His career also gives him a rich experience in a range of materials, from gypsum and plastics to sand and metal.
Rhett sees additive systems on a similar trajectory to the disruptive technologies that came before them. Seats to early CAD software packages were so expensive they were typically only accessible to mechanical engineers at large companies. Today, modeling can be done from a tablet over an internet browser. Or Rhett recalls the early technology he used as a young engineer when he had to move a CRT monitor, CPU, and wired accessories around because, "That was mobility! The technology didn't even exist in college, so that was progress," he explained.
Metal 3D printing systems were (are) large complex systems which have their own special set of requirements. Some metal powders can be explosive and special considerations must be made to safely handle these materials and systems. Metal printing traditionally lended itself to laser sintering, then has made progression to binder jetting for mass production. Bound metal extrusion removes the complex powder handling (i.e. management), makes the process simpler and safer while at the same time using a mature and familiar XYZ extrusion printing method. This makes quality metal 3D printing so accessible today that Rhett is able to print metal parts in the basement of his home. "It's progress," he emphasizes.
As Product Manager for the company's newest bound metal product, he sees himself as the coxswain making sure all the stakeholders are working together to pull in one direction. "I'm there to de-risk adoption and properly set expectations. It's still a new process comparatively, so we have to make sure the use cases align with the technology, but also that the technology is keeping up with the demands of the market." He interfaces with customers directly as they walk through the ExOne adoption model from benchmarking and qualification to technical validation and machine sign-off.
Throughout, he is also interfacing with ExOne's development colleagues to ensure there is a holistic focus on marrying the process' capabilities with the customers' needs. Materials and speed are the main metrics today as machines continue to dial in accuracy and surface finish. "You're bound mechanically by how fast the equipment can operate and the different ways you can tease that out to make something faster," Rhett says. To drastically reduce sintering times, the ExOne Designlab choose an approach with liquified feedstock, eliminating the need for other polymer or chemical components that must burn off, reducing sintering times to less than 24 hours, compared to 60 hours or more that still couldn't produce a fully dense part.
And it's this continual progress that Rhett enjoys about his job at the cutting edge of digital manufacturing. "The technology – the 3D printing is all that matters," he says. "There's a problem that needs to be solved, there's a market where there's an opportunity, and there's a technology from which we can fulfill those needs. And the combination of those three things has always been intriguing – if you have all three, you're all set, if you only have one or two of those things then there's an imbalance."
So Rhett continues to educate the market on the possibilities of metal 3D printing and is excited to see how the technology democratizes product development – and for a new generation of engineers to innovate in a world where both cell phones and 3D printers is all they've ever known.
Bound Metal Extrusion
Explore more about the original two-step method of 3D printing bound metal parts for direct sintering without debinding in this webinar.
Watch the webinar on demand