ExOne Expert: Dan Brunermer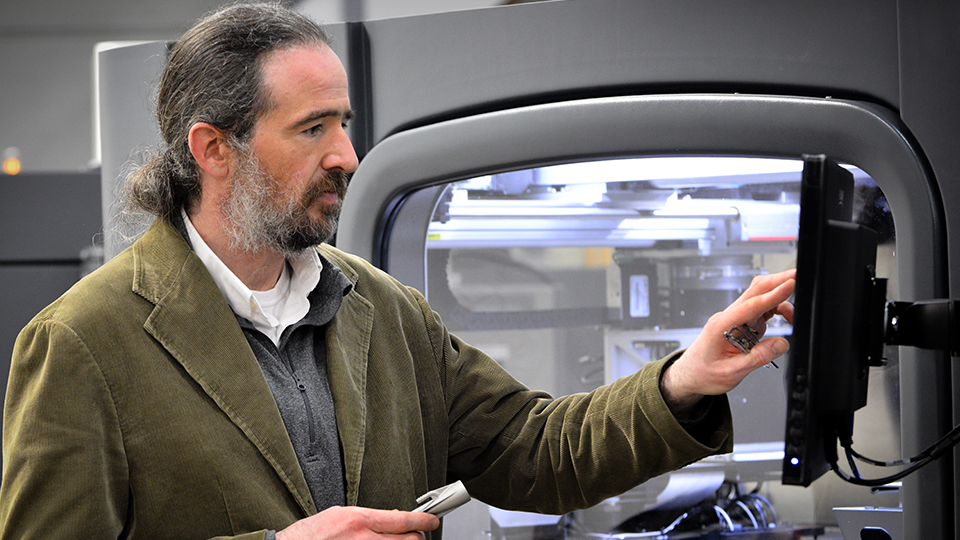 Our Technical Fellow supports the entire additive manufacturing industry by building international consensus on standards and specifications.
With over 20 years' experience in binder jetting, Dan Brunermer has focused on teaching others what the technology is capable of, whether developing projects for customers or guiding engineers on how to use the process. As the Technical Fellow at ExOne it was a natural fit for him to take a leading role in further advancing the technology through the establishment of industry standards. Part of the original formation of ASTM Committee F42 on Additive Manufacturing Technologies and a contributor to the SAE AMS7022 specification, today he co-leads the ASTM-ISO committee writing binder jetting additive manufacturing specification and serves as a member of the DNV GL, ASTM-ISO, SAE, and Maritime and Port Authority of Singapore.
As additive manufacturing technology matures, the focus has rapidly shifted from feasibility to industrialization and serial production. Parallel to the discussions around build speeds and chamber sizes is the conversation on standardization. We spoke with Dan about how he's helping to take the "magic art" out of additive manufacturing and inviting everyone to the table to establish new industry standards.
At the end of the day we're trying to make it so that we can all participate and really it's binder jetting overall that wins. We can compete in the market, we don't need to compete on the standard.

Dan Brunermer, ExOne Technical Fellow, says about inviting everyone to the table for standard development
Standardization was an integral part of the second industrial revolution and plays an important role in the market's confidence in, and adoption of, additive manufacturing today. Establishing definitions, processes, and specifications allows a process to be repeatable. "There's a "magic art" to knowing how to do something the right way," Brunermer said. "When you apply standards, you're taking the magic out and making it a repeatable process by defining what the steps are and establishing that as long as you follow the standard methodology, you're going to get the results you expect."
And getting the results you expect from a new process is what makes the technology accessible, according to Brunermer; "Standards are the thing that allow everybody to get in the game." He notes that large OEMs can make capital investments to investigate new technologies, sign developmental statements of work, and kick the tires of disruptive processes, but this is not a luxury their supply chain often has. Yet introducing binder jetting into the various tiers of the supply chain is another critical step toward true serial production. "An OEM may say they've qualified a new technology and want their Tier 1 supplier to take on production, but that manufacturer will be skeptical if they don't have some sort of standard to compare their results to. They want to make sure that they're getting the same results as the OEM," Brunermer explained. Thus, international, consensus-based standards become essential to unleash global confidence and create a direct highway to production without having one-off qualifications every time.
To establish the industry standard, he stresses inviting everyone to the table, and it's soon clear the table he's speaking of is more of a dining hall. From material and equipment suppliers to end-users and even NIST – the people who define a second or a millimeter – everybody is at the table. Even competitors are an essential part of the process, he pointed out, using the example of differing branded features of competitive systems: "We try to make room in the specs for everybody. For example, two techniques may both be a legitimate method for laying powder. The mechanics are different but we both have the same goal of creating a stable, uniformly packed powder bed. So, while we might go about it differently with different names and different settings, at the end of the day we're trying to make it so that we can all participate and really it's binder jetting overall that wins." Emphasizing the importance of having competitors at the table, Brunermer summarized saying, "we can compete in the market, we don't need to compete on the standard."
Standards Development Organizations (SDO) create a framework for these various stakeholders to develop the new specifications. Brunermer explained the development process of the ASTM-ISO committee he co-leads with Amy Elliot of Oak Ridge National Laboratory as continual consensus. Subject matter experts form working groups to create sub-topic drafts for the entire committee to discuss. That work is aimed at establishing the first general design guideline for applications with binder jetting.
"What's interesting to me, is how different SDOs have different approaches to the standards development process. At the SAE, there's a slightly different method, and priorities too." Currently that committee is focused on incoming material specifications including power sizes, shapes, chemical purity. Later they will focus on output material properties with the goal of producing a document qualifying that use a standard powder, as defined by the specification, run through a standard process will result in defined standard material properties.
The ASTM-ISO binder jetting committee hopes to release the specification in mid-2022, but timing depends on the vote of the entire ASTM community. "We develop our committee document until we get to the point we're confident to elevate it to the international ASTM community for review and balloting. Finalization will depend on the number of comments we receive and have to process during the vote," Brunermer stated.
With ever-increasing adoption of binder jet technology, the need for a common understanding around terminology, material properties, process steps, and testing procedures is essential in furthering industrialization. While some industries and companies remain cautious about embracing the technology, standard development fosters a consistent, reliable process manufacturers can trust while on the road to implementing their mass production strategy with binder jetting.