ExOne 2021: Our Catalog of Industrial 3D Printers and AM Services
Sustainable Manufacturing with Binder Jet 3D Printing
Since 1995, ExOne binder jetting technology has helped manufacturers save time and money, reduce waste, increase manufacturing flexibility, and deliver all-new designs and products that were once impossible.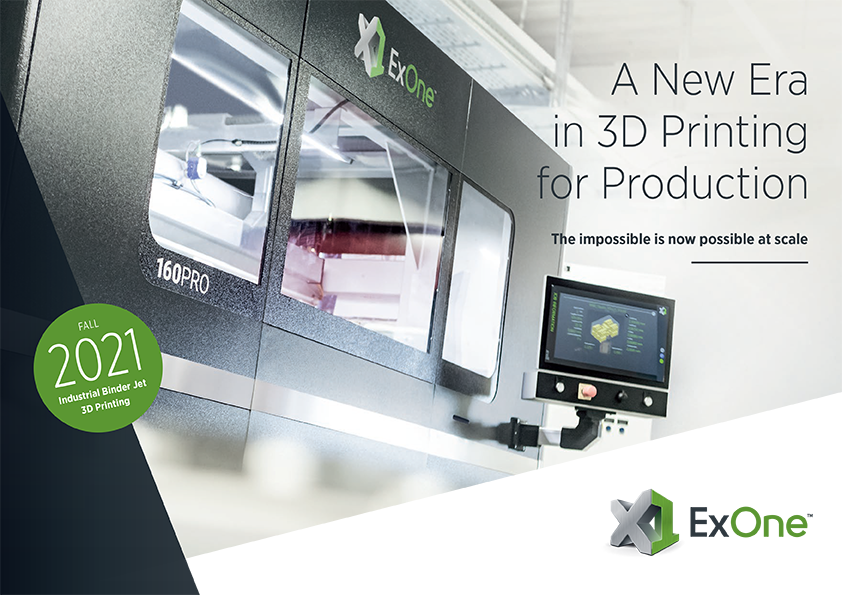 Our industrial 3D printing systems quickly transform powder materials — including metals, sand, ceramics, or composites — into precision parts, metalcasting molds and cores, as well as innovative tooling solutions.
As home to the world's leading team of binder jetting experts, ExOne also provides specialized 3D printing services, including on-demand production of mission-critical parts, as well as engineering and design consulting.
Inside our 2021 catalog, you'll learn more about our company and vision for the future, how our machines are delivering on a whole new way of manufacturing, and how we can help you transform your operations.
Learn More About ExOne
How the Binder Jetting Process Works
Success Stories from Customers
Our Products, Services, and Partners
Our History and Commitment to Sustainability
Sand 3D Printing – Machines and Services
Direct Metal 3D Printing – Machines and Services
Innovative 3D Printed Tooling Solutions
Comprehensive Services and Support