Ceramic 3D Printing Materials & Binders
Binder Jetting has inherent advantages for Additive Manufacturing of Ceramics, including the print speed, print size, and material choices & flexibility.
Binder Jetting is continuing to grow, and future machine enhancements for printing small particle size, and sinterable ceramic powders will continue to create broader adoption. ExOne offers multiple 3D production printing machines that are able to print with ceramic powders.  Scale and size of ExOne equipment makes binder jetting a commercially viable technology for additively manufacturing ceramic materials.
Beta Materials
Silicon Carbide
Silicon carbide, exceedingly hard, synthetically produced crystalline compound of silicon and carbon. It is used as an abrasive and as a refractory and in electric resistors. Its chemical formula is SiC.
Industries
Automotive
Medical and Dental
Pumps & Hydraulics
Show More
Alumina
A white solid, aluminum oxide, that occurs in bauxite and is found in crystalline form as the main constituent of corundum, sapphire, and other minerals.
Show More
Zirconia
Zirconia is a white crystalline oxide of zirconium. Its most naturally occurring form, with a monoclinic crystalline structure, is the mineral baddeleyite. A dopant stabilized cubic structured zirconia, cubic zirconia, is synthesized in various colours for use as a gemstone and a diamond simulant.
Industries
Aerospace
Automotive
Medical and Dental
Show More
Boron Carbide
Boron carbide is an extremely hard boron–carbon ceramic, and covalent material used in tank armor, bulletproof vests, engine sabotage powders, as well as numerous industrial applications. With a Vickers Hardness of >30 GPa, it is one of the hardest known materials, behind cubic boron nitride and diamond.
Show More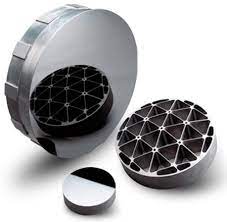 Example SiC optics for space applications. The areal density is reduced by honeycomb lightweighting. Learn more here.